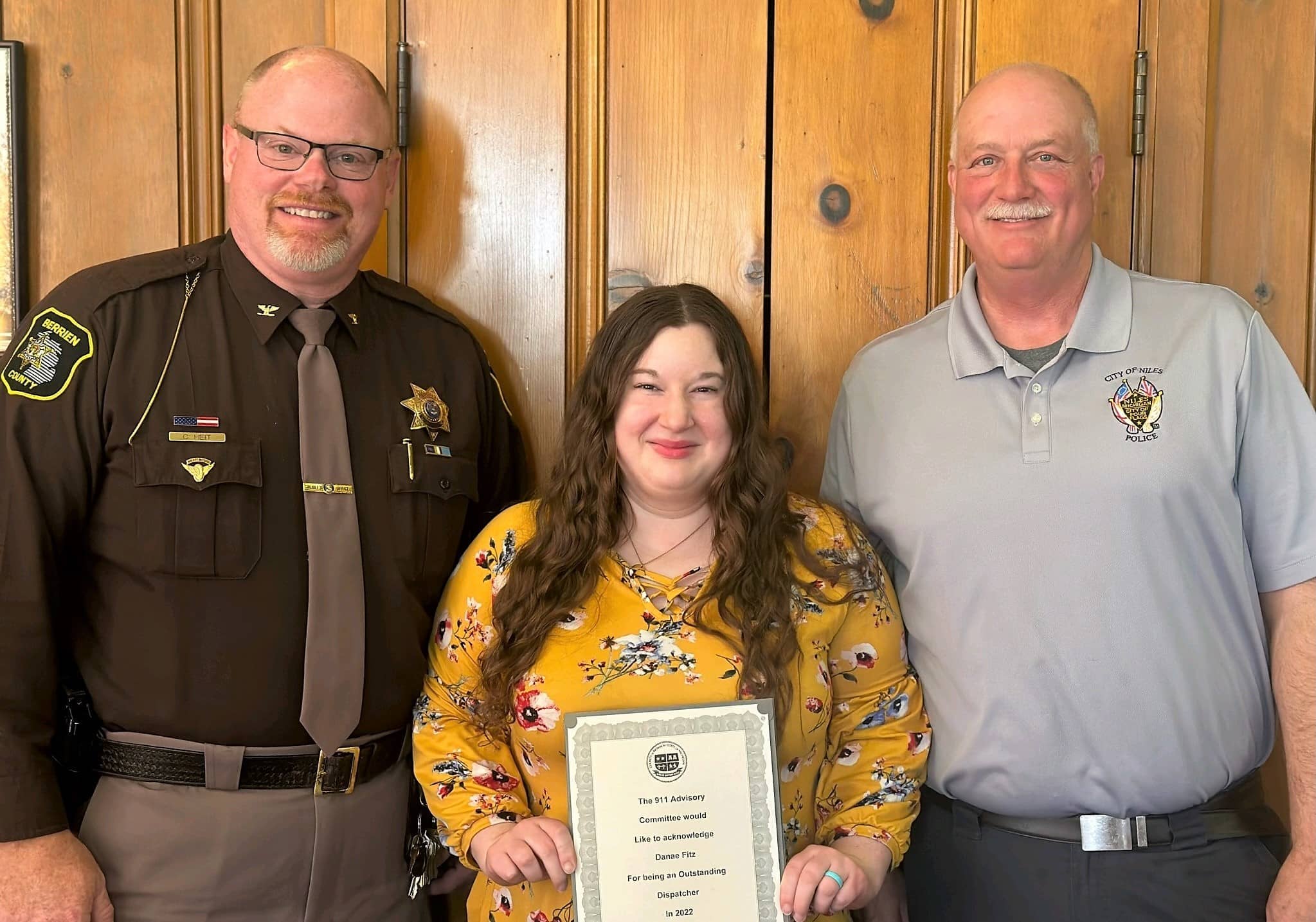 Berrien County administrators on Thursday honored four 911 dispatchers in the county, with Niles City Dispatcher Mark Fitzsimons being named the 2022 911 dispatcher of the year.
The presentation was made by Chuck Heit, Berrien County Undersheriff and Chair of the Berrien County 911 Advisory Committee. He said Fitzsimons was recognized for his dedication to public safety and flexibility through his attendance and assistance with providing additional shift coverage when other staff are not able to work.
Other reasons included Fitzsimons being an asset to the Department through training new dispatchers and assisting with the Law Enforcement Information Network Terminal Agency Coordination duties, as well as his quick handling of two homicide incidents.
During public comment, Berrien County Sheriff Paul Bailey commended the nominees and spoke of the difficulties of being a dispatcher:
"I used to fill in at dispatch in the 80's," Bailey said. "It's the most stressful job that I ever did. I just wanted to get up and thank the dispatchers. They are the hub of law enforcement."
Also recognized as nominees were Berrien County Dispatcher Carolina Moreno, Berrien County Dispatch Supervisor Sarah Blurton, and Niles Dispatcher Danae Fitz.
"This year's nominations for Telecommunicator of the Year highlight the important work that our telecommunicators do every day, from handling reports of violent crimes to providing CPR instructions. Always there, always ready," said Berrien County 911 Administrator Caitlin Sampsell. "It is a joy to celebrate these first responders as they recognize each other's contributions and accomplishments. They dedicate themselves to serving our community and they deserve to be
recognized for their role in public safety."
.The award is presented during National 911 Public-Safety Telecommunicators Week, which is annually recognized in April, during National 911 Education Month. 911 Telecommunicators are the Call-takers and Dispatchers, known as the "first first responders" for their integral role in the response to an emergency call, providing pre-arrival instructions over the phone, and mobilizing and coordinating the field response.