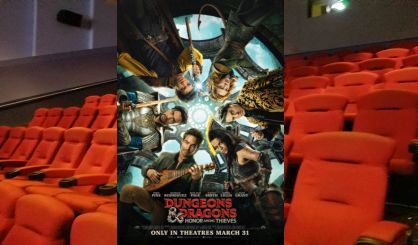 Flick Pick is a podcast about movies. In today's episode, Andrew Green reviews Dungeons & Dragons: Honor Among Thieves, which is a movie now in theaters.
This films stars Chris Pine as a thief who seeks to carry out a heist and bring down a corrupt governor in the fantasy realm of Neverwinter.
Andrew has never played Dungeons and Dragons, but he thought this movie looked good in the trailers. did he enjoy it, or did he long to be devoured by a gelatinous cube?
Scroll down and click the Play icon to find out in this Chris Pine-erific edition of Flick Pick!
Click here to listen to additional episodes of Flick Pick.
Podcast: Play in new window | Download (Duration: 5:13 — 4.8MB) | Embed
Subscribe: Apple Podcasts | Google Podcasts | Spotify | Amazon Music | iHeartRadio | Stitcher | Email | RSS | More