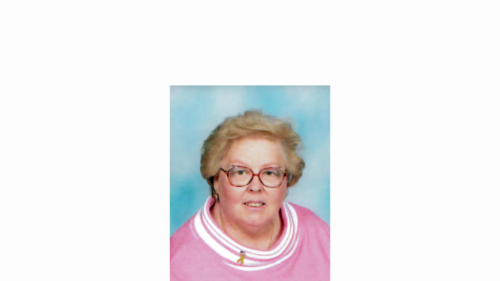 Linda L. Rogers, 76, of St. Joseph, passed away at her home on Saturday, March 18, 2023. A Celebration of Life Memorial Service will be held on Wednesday, March 22, at 12 PM at Starks & Menchinger Chapel, 2650 Niles Rd., St. Joseph. Friends may visit with the family one hour prior to the service at the funeral home. Memorial contributions may be made to the family, c/o Clara Churchill. Those wishing to leave an online condolence may do so at www.starks-menchinger.com.
Linda was born on July 7, 1946 in St. Joseph to Harold & Dorothy (Wendt) Gast. She attended Benton Harbor High School up until her sophomore year of high school when she transferred to St. Joseph High School graduating in 1964. Following high school, Linda enrolled in cosmetology school. She worked as a licensed cosmetologist at Hazel Bishop, Tom Fogarty and then New Image Salon before retiring around 2013. She would later work at Meijer through Serve-U Success. Linda had a passion for crafting of all kinds; she made beautiful handmade cards for holidays, and all occasions. She also designed bird baths out of pottery. She was a proud member of Kappa Theta Chi, enjoyed bowling and spending time with family, friends, and taking care of her nieces & nephews in whom she adored.
Linda is survived by her siblings, Clara (John) Churchill & Harold Gast; nieces & nephews, Rick (Char) Gast, Misty (Ken) Morris, Wendy (Lance Green) Gast-Ostrom, Nicole (Bryan) Ramirez, and Ryan (Jennifer) Churchill; and numerous great & great-great-nieces & nephews. She was preceded in death by her parents; nephew, Daniel Churchill; sister-in-law, Bonnie Gast; longtime boyfriend, Steve Hardy and her lifelong friend Dianne Spalo.
Memorial Contributions
Made to the family, c/o Clara Churchill
Service Details
Visitation
When
March 22nd, 2023 11:00am – 12:00pm
Where
Starks & Menchinger Chapel
Address
2650 Niles Rd.
St. Joseph, MI 49085
Service
When
March 22nd, 2023 12:00pm
Where
Starks & Menchinger Chapel
Address
2650 Niles Rd.
St. Joseph , MI 49085
Posted On: Monday, March 20, 2023 4:35 PM