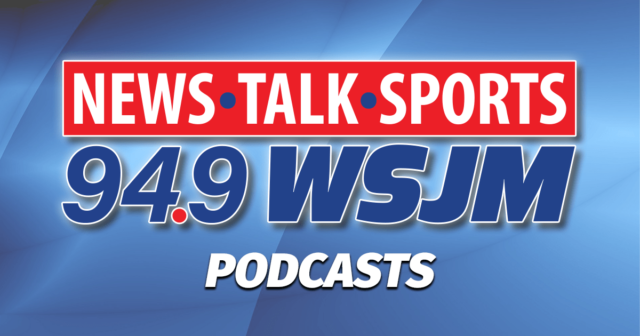 NCAAMBKB – Men's College Basketball
Last Night
North Carolina 63, Notre Dame 59
North Carolina 63, Notre Dame 59 – Love, Bacot lead North Carolina past Notre Dame 63-59
Caleb Love and Armando Bacot scored 16 points each and Bacot had a milestone double-double, leading North Carolina to a 63-59 victory over Notre Dame. Bacot grabbed 11 rebounds for his 67th career double-double, tying him with Tom Burleson for the fourth most in ACC history. Tim Duncan had the most with 87. Up 59-58 with 38 seconds left, North Carolina worked the shot clock before Leaky Black missed a shot with 11 seconds left. North Carolina grabbed the offensive rebound, and after another miss and offensive rebound, Love was fouled and made two free throws for a three-point lead. The teams then exchanged a series of free throws and North Carolina sealed it. Cormac Ryan had 14 points, Trey Wertz 13, and J.J. Starling 10 for Notre Dame (10-18, 2-15).
Tonight
Michigan at Rutgers, 8:30 p.m.                 News/Talk/Sports 94.9 WSJM 8:00
NCAAWBKB – Women's College Basketball
Yesterday
Bowling Green 80, Central Michigan 72
Ball State 80, Western Michigan 41
Michigan State 71, Minnesota 67
NBA – National Basketball Association
Tonight
Detroit Pistons at Orlando Magic, 7:00 p.m.
Boston Celtics at Indiana Pacers, 7:00 p.m.
NBA – NBA teams get ready to make 4th-quarter push for playoffs
There are six teams in the NBA that look pretty comfortably in playoff position. There are four other teams that pretty much know they're not going anywhere. That leaves 20 teams for the last 10 playoff spots. The NBA's All-Star break ends Thursday night. And there's only 28% of the season left, which means it's time for teams to start really jostling for playoff position.
NHL – National Hockey League
Last Night
Chicago Blackhawks 4, Dallas Stars 3
Blackhawks 4, Stars 3 – Kane, Domi lead big Blackhawks rally in 4-3 win over Stars
Patrick Kane and Max Domi scored two goals apiece, and the Chicago Blackhawks erased a three-goal deficit in a 4-3 victory over the Dallas Stars. The Central Division-leading Stars have lost five in a row, including the past two against last-place teams. The Central cellar-dwelling Blackhawks won their fourth in a row. They rallied from a 3-0 deficit in the second period. Kane and Domi assisted on each other's first goal and finished with three points apiece. Tyler Seguin and captain Jamie Benn scored 79 seconds apart in the first period for Dallas.
Tonight
New York Rangers at Detroit Red Wings, 7:00 p.m.
NHL – Blackhawks acquire D-man Nikita Zaitsev, picks from Senators
The Chicago Blackhawks have acquired Nikita Zaitsev and draft picks from the Ottawa Senators for future considerations. Chicago got a 2023 second-round pick and 2026 fourth in exchange for taking on the remainder of Zaitsev's contract. The 31-year-old Russian defenseman is signed through next season at a salary cap hit of $4.5 million. Chicago now has the ability to flip Zaitsev to another team before the March 3 trade deadline or any time over the next year. Zaitsev has five goals in 28 games this season. He has 110 points in 444 NHL regular-season and playoff games.
MLB – Ferguson Jenkins to be honored with statue in hometown
Ferguson Jenkins' hometown will honor the baseball Hall of Famer with a statue. Chatham-Kent will unveil a 9-foot bronze figure of the 80-year-old former pitcher on June 10. It is a replica of the statue by sculptor Lou Cella that was unveiled outside Chicago's Wrigley Field last May. Jenkins was 284-226 with a 3.34 ERA and 3,192 strikeouts in 19 big league seasons for Philadelphia, the Cubs, Texas and Boston. Jenkins was a three-time All-Star. He won 20 or more games each year from 1967-72, was voted the 1971 NL Cy Young Award and in 1991 became the first Canadian inducted into the baseball Hall.
MLB – MLB curtails infield shift, hopes for more singles, speed
One of MLB's most visible rule changes for 2023 is a sizable curtailing of infield shifts. The practice had grown exponentially over the past several years and has been partially blamed for a steady league-wide decline in batting average. The new rule states that all four infielders must have both feet within the outer boundary of the infield — and two infielders must be on each side of second base — when the pitch is delivered. MLB has also mandated that the infield dirt cutout have uniform dimensions in all 30 ballparks. The outfield edge of the dirt must be 95 feet from the front of the pitching rubber.
Tennis – Djokovic hopes to play in US despite being unvaccinated
Novak Djokovic says he has asked American authorities for special permission to enter the United States to play tennis tournaments in California and Florida despite being unvaccinated against the coronavirus. The Transportation Security Administration has said the requirement for foreign air travelers to be fully vaccinated against the disease would be in place at least until mid-April. The tournament in Indian Wells will be played from March 6-19 and the Miami Open is scheduled from March 20-April 2. The top-ranked Serb says "I have a big desire to be there." Djokovic is one of the most high-profile athletes who is unvaccinated against COVID-19.
Olympics – Russia's sports exile persists 1 year after invading Ukraine
Russia's reintegration into the world of sports one year after the invasion of Ukraine began threatens to create the biggest rift in the Olympic movement since the Cold War. Russia remains excluded from many international sporting events but that could soon change. Next year's Paris Olympics are fast approaching and qualifying events are under way. The International Olympic Committee is working to bring athletes from Russia and ally Belarus back into competition but not everyone agrees. Ukraine and several of its allies say any return for Russia would be unacceptable. The IOC says excluding Russian and Belarusian athletes entirely would be discriminatory.
MCCAA – Junior College Athletics
Tonight
Women's Basketball
Lake Michigan College at Kellogg Community College, 5:30 p.m.
Men's Basketball
Lake Michigan College at Kellogg Community College, 7:30 p.m.
MHSAA – High School Sports
Last Night
Boys Basketball
St. Joseph at Mattawan, PPD to 2/25
Brandywine 60, Niles 51
Eau Claire at Galesburg-Augusta, PPD
Girls Basketball
Bridgman 41, Our Lady of the Lake 24
Tonight
Boys Basketball
SMAC
Kalamazoo Central at Battle Creek Central, 5:45 p.m.
BCS
Howardsville Christian at Covert, 6:00 p.m.
Girls Basketball
SMAC
Portage Northern at Lakeshore, 7:00 p.m.
Portage Central at St. Joseph, 7:00 p.m.
Mattawan at Gull Lake, 7:00 p.m.
Loy Norrix at Battle Creek Lakeview, 7:00 p.m.
Kalamazoo Central at Battle Creek Central, 4:15 p.m.
Non-Conference
Michigan Lutheran at Watervliet, 7:30 p.m.
Dowagiac at Niles, 7:00 p.m.
River Valley at Brandywine, 7:00 p.m.
Podcast: Play in new window | Download (Duration: 2:54 — 2.7MB) | Embed
Subscribe: Apple Podcasts | Google Podcasts | Spotify | Amazon Music | iHeartRadio | Stitcher | Email | RSS | More