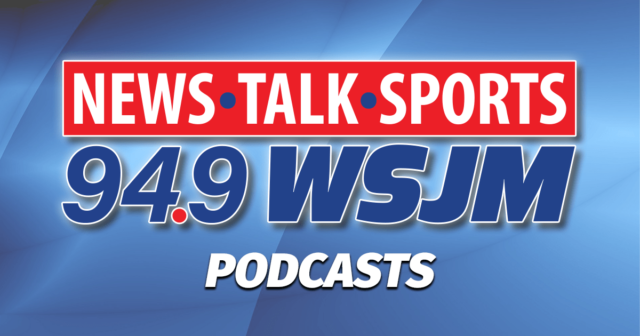 NCAAMBKB – Men's College Basketball
Last Night
Michigan State 80, (17) Indiana 65
Eastern Michigan 66, Western Michigan 59
Buffalo 63, Central Michigan 35
Michigan State 80, (17) Indiana 65 – Michigan State tops Indiana in 1st home game since shootings
Tyson Walker shook off a slow start to score 23 points and lifted Michigan State to an 80-65 win over No. 17 Indiana on Tuesday night in its first home game since last week's shootings on campus that killed three students and hospitalized five others. The Spartans surged into the lead late in the first half after Walker started making 3-pointers following an 0-for-4 start from the field and were ahead by double digits for much of the second half. The Hoosiers relied heavily on Trayce Jackson-Davis, who had 19 points, seven rebounds and five assists.  The victims, survivors and first responders from last week's shootings were recognized with pregame remarks. There was also a moment of silence that was broken by the Michigan State band playing "MSU Shadows," when Izzo looked left, right, high and low at fans in the stands.  In the front row of the student section, white shirts were placed on eight seats to save them for the eight students shot on campus. The funeral for the last of the three students killed was earlier Tuesday.
EMU 66, WMU 59 – Bates scores 17, Eastern Michigan beats Western Michigan
Emoni Bates scored 17 points to help Eastern Michigan defeat Western Michigan 66-59 on Tuesday night.  Bates also contributed seven rebounds for the Eagles (7-21, 4-11 Mid-American Conference). Noah Farrakhan finished 6 of 10 from the field to add 15 points. Colin Golson Jr. shot 4 of 5 from the field to finish with 10 points. The Eagles ended a five-game slide with the victory.  Lamar Norman Jr. led the Broncos (7-21, 3-12) in scoring, finishing with 18 points. Seth Hubbard added 15 points and six rebounds for Western Michigan. In addition, Tray Maddox Jr. finished with 13 points.
Buffalo 63, CMU 35 – Jones scores 14 as Buffalo defeats Central Michigan 63-35
Curtis Jones scored 14 points as Buffalo beat Central Michigan 63-35 on Tuesday night. Jones added five assists and three steals for the Bulls (13-15, 7-8 Mid-American Conference). Isaiah Adams scored 12 points while shooting 4 for 9, including 4 for 7 from beyond the arc, and added 11 rebounds and four steals. Zid Powell shot 3 for 10 (0 for 3 from 3-point range) and 4 of 5 from the free throw line to finish with 10 points. Brian Taylor led the Chippewas (10-18, 5-10) in scoring, finishing with 12 points, six rebounds and two steals. Nicolas Pavrette added eight points, 12 rebounds and three blocks.
Tonight
North Carolina at Notre Dame, 9:00 p.m.
NCAAWBKB – Women's College Basketball
Today
Buffalo at Eastern Michigan, 12:00 p.m.
Bowling Green at Central Michigan, 1:00 p.m.
Western Michigan at Ball State, 6:30 p.m.
Minnesota at Michigan State, 7:00 p.m.
NBA – Bulls sign Beverley after ruling injured Ball out for season
The Chicago Bulls have signed veteran point guard Patrick Beverley and ruled point guard Lonzo Ball out for the season because of lingering discomfort in his surgically repaired left knee. The Bulls brought in Beverley to help solidify a position that has been a sore spot all season with Ball recovering from his second left knee surgery in less than a year and his third since entering the NBA in 2017 with the Los Angeles Lakers. The team says Ball's focus now will be on resolving the discomfort he feels performing "high level basketball-related activities" and making "a full return" for next season. Beverley, a Chicago product, is a three-time All-NBA Defensive Team selection.


NHL – National Hockey League
Last Night
Detroit Red Wings 3, Washington Capitals 1
Chicago Blackhawks 3, Vegas Golden Knights 2 – Shootout
Red Wings 3, Capitals 1 – Red Wings beat Capitals 3-1 for 6th win in 7 games
Pius Suter scored two goals to help the Detroit Red Wings stay hot with a 3-1 win at the Washington Capitals. The Red Wings have won six of seven and passed the Capitals in the Eastern Conference wild-card race. They won even after captain Dylan Larkin was ejected for cross-checking T.J. Oshie in the face. Defensive defenseman Robert Hagg broke a 75-game goal drought and Ville Husso made 26 saves for the victory. Washington has lost five in a row in regulation for the first time since January 2014.
Blackhawks 3, Golden Knights 2 – SO – Johnson scores in SO, Blackhawks edge Golden Knights 3-2
Tyler Johnson scored the lone goal in a shootout to give the Chicago Blackhawks their third straight victory, 3-2 over the Vegas Golden Knights. Johnson beat Laurent Brossoit with a low shot in the third round of the tiebreaker after scoring a power-play goal with 55 seconds left in regulation to for force overtime. Johnson tied it on a screened shot from the high slot after Vegas defenseman Alex Pietrangelo was penalized for delay of game for lofting the puck over the glass and goalie Petr Mrazek was pulled for an extra attacker. Jack Eichel scored his 18th goal and Keegan Kolesar also connected for the Golden Knights, whose five-game winning streak ended. Rookie Cole Guttman scored in his second straight game for Chicago.
Tonight
Chicago Blackhawks at Dallas Stars, 9:30 p.m.
WNBA – Brittney Griner re-signs with Phoenix Mercury
Brittney Griner will be back in the WNBA this season, once again playing with the Phoenix Mercury.  Griner, who was a free agent, re-signed with the team Tuesday. The 32-year-old Griner had said she would return to Phoenix in a social media post in December, after she returned home from her 10-month detainment in Russia. Griner had been arrested at an airport just outside of Moscow on drug possession charges a year ago and was brought home in a dramatic high-level prisoner exchange in December.  The 6-foot-9 center last played for the Mercury in 2021 and helped the team reach the WNBA Finals. She averaged 20.5 points and 9.5 rebounds that season.  Griner, who was drafted No. 1 in 2013 by the Mercury, was listed Saturday on Phoenix's roster on the WNBA website. Since returning home from Russia, Griner has been out of the public spotlight, with the exception of appearances at the Super Bowl, the Phoenix Open and an MLK Day event in Phoenix, where she lives.
Golf – LIV – Column: LIV resumes after break that was anything but loud
The PGA Tour is coming off two big weeks with Scottie Scheffler winning in raucous Phoenix and Jon Rahm at Riviera. Tiger Woods caused the biggest buzz of all. Now it's LIV Golf's turn. The Saudi-funded league begins its second season and will be compared with two loud weeks on the PGA Tour, with two more to follow. AP Golf Writer Doug Ferguson says this wasn't a great offseason for LIV. It signed six players, none prominent. It also had four executives leave. The LIV season starts Friday in the Mexican resort of Mayakoba. One upside is a new television partner in The CW Network.
Golf – Woods, McIlroy break ground on high-tech golf league site
Tiger Woods and Rory McIlroy are closer to seeing their high-tech golf league become reality. The ceremonial groundbreaking for the arena that will house the league that's being called TGL was held Tuesday at Palm Beach State College. Woods and McIlroy are among the co-founders and were there for the first step of actual construction. Play will begin early next year. Woods and McIlroy so far have 11 players committed to the league. Besides them, the league will include world No. 1 Jon Rahm, Justin Thomas, Adam Scott, Collin Morikawa, Matt Fitzpatrick, Max Homa, Billy Horschel, Justin Rose and Xander Schauffele.
MCCAA – Junior College Athletics
Tonight
Women's Basketball
Lake Michigan College at Kellogg Community College, Postponed
Southwestern Michigan College at Lansing Community College, Postponed
Men's Basketball
Lake Michigan College at Kellogg Community College, Postponed
Southwestern Michigan College at Lansing Community College, Postponed
MHSAA – High School Sports
Last Night
Boys Basketball
Our Lady of the Lake 45, New Buffalo 42 – 2 OT
Countryside 61, Michigan Lutheran 46
Buchanan 62, River Valley 53
Berrien Springs 46, Bridgman 39
South Haven 49, Constantine 42
Niles 59, Edwardsburg 48
Gobles 57, Delton-Kellogg 50
Kalamazoo Christian 53, Watervliet 50
Kalamazoo Hackett 61, Allegan 48
Lawton 44, Coloma 40
White Pigeon 57, Hartford 36
Howardsville Christian 71, Martin 52
Parchment 75, Paw Paw 52
Mendon 62, Bangor 31
Bloomingdale 75, Centreville 29
Decatur 48, Marcellus 46
Cassopolis 51, Lawrence 30
Comstock 60, Vermontville Maple Valley 53
Battle Creek Lakeview 54, Otsego 38
Portage Northern 47, Plainwell 44
Portage Central 65, Vicksburg 44
Girls Basketball
Dowagiac 36, Lakeshore 35
Brandywine 69, St. Joseph 30
New Buffalo 69, Watervliet Grace Christian 38
River Valley 45, Berrien Springs 29
Paw Paw 59, Gull Lake 53
Watervliet 44, Kalamazoo Hackett 35
Edwardsburg 68, Constantine 19
Martin 39, Howardsville Christian 28
Kalamazoo Christian 57, Allegan 29
Lawton 52, Fennville 17
Gobles 43, Delton-Kellogg 27
Mendon 53, Bangor 26
Bloomingdale 43, Centreville 36
Marcellus 46, Decatur 28
White Pigeon 52, Hartford 37
Cassopolis 49, Lawrence 46
Comstock 45, Vermontville Maple Valley 31
Vicksburg 48, Portage Central 31
Battle Creek Lakeview 41, Otsego 30
Plainwell 54, Portage Northern 39
Tonight
Boys Basketball
St. Joseph at Mattawan, 7:00 p.m.
Brandywine at Niles, 7:15 p.m.
Eau Claire at Galesburg-Augusta, 7:00 p.m.
Girls Basketball
Our Lady of the Lake at Bridgman, 6:00 p.m.
Podcast: Play in new window | Download (Duration: 3:01 — 2.8MB) | Embed
Subscribe: Apple Podcasts | Google Podcasts | Spotify | Amazon Music | iHeartRadio | Stitcher | Email | RSS | More