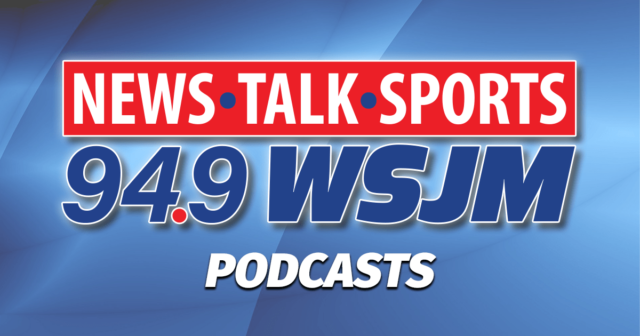 NCAAMBKB – Men's College Basketball
Saturday
Michigan 84, Michigan State 72
Michigan 84, Michigan State 72 – Spartans lose to Michigan in their first game since shooting
Michigan showed its support for rival Michigan State with a poignant pregame ceremony before the Wolverines took an 84-72 win on Saturday night, the first game for the Spartan men since a shooting on the their campus that killed three students and wounded five others. A long moment of silence was broken by the Michigan band playing the Spartans' alma mater — "MSU Shadows" — while Crisler Arena was dimly lit with green and white lights from LED wristbands that were given to fans. Kobe Bufkin snapped a tie with a 3-pointer after he bobbled the ball as the shot clock was winding down with two minutes left and the Wolverines (15-12, 9-7 Big Ten) scored the last 12 points to split the season series.  Dug McDaniel led the Wolverines with 18 points, Bufkin scored 17, Hunter Dickinson 14 and Joey Baker and Jett Howard had 10 each. Howard left the game with an apparent leg injury early in the second half.  Joey Hauser scored 20 points, Malik Hall 14 and Tyson Walker 11 for the Spartans (16-10, 8-7)
NHL – National Hockey League
Last Night
Chicago Blackhawks 5, Toronto Maple Leafs 3
Blackhawks 5, Maple Leafs 3 – Kane has hat trick, Blackhawks beat Maple Leafs 5-3
Patrick Kane had his ninth career regular-season hat trick, rookie Cole Guttman scored the game-winner and the Chicago Blackhawks beat the Toronto Maple Leafs 5-3. Max Domi had a goal and three assists for the Blackhawks, who won their second straight following a three-game losing streak and climbed out of last place in the NHL. The Maple Leafs had won two straight, including a 5-2 romp over the Blackhawks on Wednesday in Toronto. Guttman scored his first NHL goal by beating Ilya Samsonov over the blocker with a hard wrist shot from right wing with 8:18 remaining to break a 3-all tie.
NHL – Blackhawks C Toews dealing with long COVID-19 symptoms
Chicago Blackhawks captain Jonathan Toews says he is dealing with symptoms of long COVID-19 and chronic immune response syndrome. Toews hasn't played since Jan. 28. The Blackhawks placed the 34-year-old center on injured reserve on Wednesday with what they said was a non-COVID-19-related illness. Toews missed the 2020-21 season with what he described as chronic immune response syndrome. He has spent his entire career with Chicago, winning three Stanley Cup titles. But he is eligible for free agency after this season.
NBA – National Basketball Association
Last Night
2023 NBA All Star Game – Salt Lake City, Utah
Team Giannis 184, Team LeBron 175
Gianns 184, LeBron 175 – Tatum scores All-Star record 55, Team Giannis wins 184-175
Jayson Tatum put on a record-setting show, and made Giannis Antetokounmpo look like a genius. Tatum scored an All-Star Game-record 55 points, and Team Giannis ended LeBron James' hold on All-Star captain supremacy by beating Team LeBron 184-175 in the NBA's annual showcase exhibition game Game on Sunday night. Tatum had 27 of his points in the third quarter, another All-Star Game record for any period. He was the first pick by Antetokounmpo in the starters' portion of the All-Star draft, and in the end, that pick proved to absolutely be the right one.
NCAAWBKB – Women's College Basketball
Yesterday
(10) Notre Dame 83, Pittsburgh 43
(10) Notre Dame 83, Pittsburgh 43 – No. 10 Notre Dame races to quick lead, cruises by Pitt 83-43
Maddy Westbeld and Sonia Citron scored 13 points each and No. 10 Notre Dame used a huge first-quarter push to race by Pittsburgh 83-43. The Fighting Irish (22-4, 13-3 ACC) went on an 18-3 burst over the final 6:47 of the opening frame to build a 16-point lead that the Panthers (10-17, 3-13) never really threatened.
Tonight
(13) Ohio State at (12) Michigan, 7:00 p.m.
NASCAR – Ricky Stenhouse Jr. wins longest Daytona 500 in history
Ricky Stenhouse Jr. won the Daytona 500 in double overtime and under caution Sunday night in the longest running of "The Great American Race." The two overtimes pushed the 65th running of the race to a record 212 laps — 12 laps beyond the scheduled distance. Stenhouse's win in a Chevrolet for JTG Daugherty Racing was the third of his career. His only other victories came in 2017 — at Talladega and the summer race at Daytona.
MLB – AP sources: White Sox, INF Andrus agree to 1-year contract
Elvis Andrus has agreed to a $3 million, one-year contract with the Chicago White Sox, likely filling the team's hole at second base. Two people familiar with the negotiations confirmed the deal to The Associated Press on condition of anonymity because the move was pending a successful physical. The 34-year-old Andrus finished last season with Chicago, hitting .271 with nine homers and 28 RBIs in 43 games after he was cut by Oakland. He was signed by the White Sox after Tim Anderson had surgery on his left hand, but the All-Star shortstop is healthy again and the team has an opening at second.
NCAAHKY – Ohio State-Michigan take feud on ice at Browns home stadium
Ohio State and Michigan found a new outdoor spot to continue their long-running feud. The bitter Big Ten rivals squared off on the ice Saturday as the schools' nationally ranked hockey teams played at FirstEnergy Stadium, home of the NFL's Cleveland Browns. More than 45,000 fans were on hand for "Faceoff On The Lake" as the Buckeyes and Wolverines skated on a temporary rink that will also be used for upcoming minor league and high school playoff games. It's the second time Ohio State and Michigan have dropped the puck in Cleveland. In 2012, the schools played at Progressive Field, the Guardians' downtown ballpark a few miles away.
AHL – American Hockey League
Yesterday
Grand Rapids Griffins 5, Manitoba Moose 4 – Shootout
Today
Grand Rapids Griffins at Manitoba Moose, 3:00 p.m.
ECHL – ECHL Hockey League
Yesterday
Fort Wayne Komets 6, Kalamazoo Wings 5 – OT
MCCAA – Junior College Athletics
Saturday
Women's Basketball
Lake Michigan College 73, Lansing Community College 57
Kalamazoo Valley Community College 66, Southwestern Michigan 58
Men's Basketball
Lansing Community College 97, Lake Michigan College 86
Kalamazoo Valley Community College 92, Southwestern Michigan 78
MHSAA – High School Sports
Saturday
Boys Basketball
Lansing Waverly 76, Benton Harbor 71
Michigan Lutheran 57, River Valley 49
Saugatuck 45, Fennville 40
Gull Lake 62, Hanover-Horton 55
Girls Basketball
Lansing Waverly 65, Benton Harbor 18
River Valley 24, Michigan Lutheran 20
Saugatuck 47, Fennville 25
Edwardsburg 77, Niles 14
Today
Boys Basketball
Berrien Springs at St. Joseph, 7:00 p.m.
Our Lady of the Lake at Buchanan, 7:00 p.m.
New Buffalo at Brandywine, 7:00 p.m.
Dowagiac at Coloma, 7:00 p.m.
Bloomingdale at Decatur, 7:30 p.m.
Sturgis at Edwardsburg, 7:15 p.m.
Kalamazoo Phoenix at Covert, 6:00 p.m.
Gull Lake at Battle Creek Central, 7:00 p.m.
Portage Northern at Parchment, 7:00 p.m.
Girls Basketball
Benton Harbor at Our Lady of the Lake, 7:00 p.m.
Michigan Lutheran at Athens, 6:30 p.m.
Bloomingdale at Decatur, 6:00 p.m.
Edwardsburg at Sturgis, 6:30 p.m.
Parchment at Portage Northern, 7:15 p.m.
Climax-Scotts at Galesburg-Augusta, 6:30 p.m.
Kentwood Grand River at Saugatuck, 6:00 p.m.