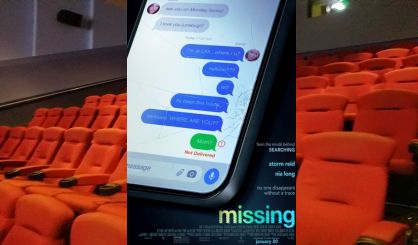 Flick Pick is a podcast about movies. In today's episode, Andrew Green reviews Missing, which is a movie now in theaters.
Missing is an anthology sequel to Searching, which came out in 2018. You don't need to have seen Searching to follow Missing. It has totally different characters.
In Missing, a teenage girl searches for her missing mother. The movie takes place entirely on the screens of the girl, meaning laptop screen, phone screen, and watch screen.
Did Andrew enjoy Missing, or did he yearn for LESS screentime?
Scroll down and click the Play icon to find out in this harrowing edition of Flick Pick!
Click here to listen to additional episodes of Flick Pick.
Podcast: Play in new window | Download (Duration: 5:19 — 4.9MB) | Embed
Subscribe: Apple Podcasts | Google Podcasts | Spotify | Amazon Music | iHeartRadio | Stitcher | Email | RSS | More