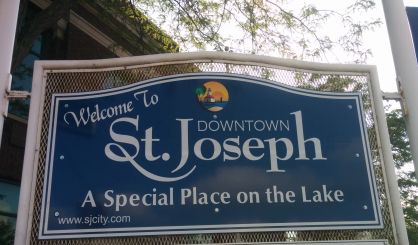 Two plans to improve the downtown area have been approved by St. Joseph City Commissioners. At a Monday meeting, they heard a proposal from Cornerstone Alliance to spruce up downtown facades. Cornerstone would provide $25,000 while the city and Downtown Development Authority will contribute another $50,000 so businesses could apply for matching grants of up to $10,000 to improve their fronts. Mayor Laura Goos was enthused.
"This is the first time that we're investing our own dollars in a facade program to help local business owners and property owners downtown," Goos said. "So, I'm really excited about that. I'm very excited about the DDA's involvement in this."
Cornerstone Alliance will hold a workshop on February 15 for interested parties, and applications will be taken within a month after that.
Also Monday, Cornerstone pitched a Public Space Activation Program to improve a parcel at Pleasant and Court Streets, by the Court Place Plaza. Assistant City Manager Emily Hackworth said this would make the two streets more pedestrian friendly.
"We are holding ideas from the Downtown Vision Master Plan," Hackworth said. "It would sure be nice to have a permanent fire pit, decorative overhead lighting, benches, tables, bike racks, murals, there's a call for public art. We want to do as much as we can. Part of that would depend on the funding that we get and the matching grants that we get."
Under this project, Cornerstone has offered $25,000 while the city and DDA will put up another $50,000. The Michigan Economic Development Corporation would match up $50,000 if raised through an accompanying crowdfunding campaign. This is similar to an effort last year that resulted in a new park on Main Street in Watervliet.