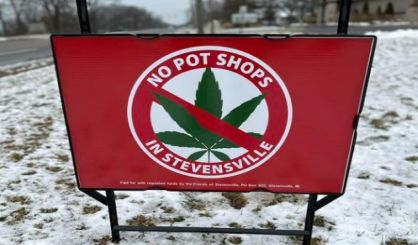 A group opposed to allowing marijuana businesses in the village of Stevensville has started a petition to have voters decide the issue. Friends of Stevensville Committee Chair Mary Jo Tomasini tells us the village council voted last month to allow up to two recreational cannabis dispensaries in town. That caught some locals off guard.
"We feel that it will change the quaintness of Stevensville, and we're just concerned about giving our students at Lakeshore Schools better access," Tomasini said. "We're not thinking that they don't already have access, we know that they already have access, but we're concerned about making it easier for them."
Besides, Tomasini says Berrien County already has enough marijuana businesses. She says the council's actions were rushed.
"I think for the people in the group that it's a lot about principle, it's a lot of about the integrity of the village council as far as being more transparent. A lot of us had no idea that this was happening."
Friends of Stevensville filed petitions with the Lincoln Township Clerk on December 7 in opposition to the recently adopted ordinance allowing marijuana retailers to operate within the village of Stevensville. The petitions request that a ballot proposal be placed before voters to determine if marijuana establishments should be allowed within the village limits. Meanwhile, Tomasini says some metal signs the group put up along Red Arrow Highway on Saturday have been stolen.
"We put seven out, and within about 12 hours, three of them were stolen."
A police report has been filed and anyone who knows the location of them is asked to come forward. Tomasini says Friends of Stevensville will address the council on Wednesday to ask that the marijuana ordinance be repealed.