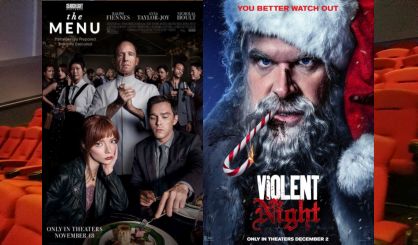 Flick Pick is a podcast about movies. In today's episode, Andrew Green reviews The Menu and Violent Night, which are both movies now in theaters.
The Menu stars Ralph Fiennes as a demented celebrity chef who has invited an eclectic group of foodies to his expensive restaurant for a fancy dinner. And for dessert ? A heaping helping of murder!
Did Andrew enjoy The Menu, or did he send it back?
Up next is Violent Night, a movie about Santa fighting a bunch of hostage takers at the mansion of a rich family.
Did Andrew enjoy Violent Night, or did he say "Bah humbug"?
Scroll down and click the Play icon to find out in today's Christmas edition of Flick Pick!
Click here to listen to additional episodes of Flick Pick.