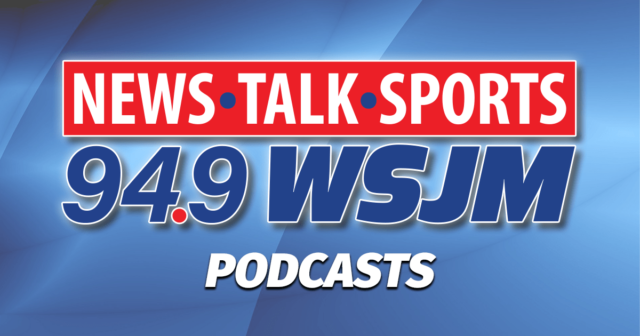 NBA – National Basketball Association
Last Night
Detroit Pistons 131, Dallas Mavericks 125 – OT
Pistons 131, Mavericks 125 – OT – Hayes leads Pistons to overtime victory over Mavericks
Killian Hayes scored eight of 22 points in overtime as the Detroit Pistons recovered from blowing a late lead to beat the Dallas Mavericks 131-125 on Thursday night. Christian Wood's dunk tied the game at 125 with 1:35 left in overtime, but Hayes answered with back-to-back 3-pointers to put the Pistons ahead by six with 41.6 left and seal the win. Bojan Bogdanovic led the Pistons with 30 points while Marvin Bagley III added 19 points and 13 rebounds. Luka Doncic had 35 points and 10 assists for Dallas. Tim Hardaway Jr. scored 26 points.
Tonight
Indiana Pacers at Utah Jazz, 9:00 p.m.
Chicago Bulls at Golden State Warriors, 10:00 p.m.
Sunday
Memphis at Detroit, 6:00 p.m.
NFL – National Football League – Week 13
Last Night
Buffalo Bills 24, New England Patriots 10
Bills 24, Patriots 10 – Josh Allen throws for 2 TDs, Bills beat Patriots 24-10
Josh Allen threw two touchdown passes and the Buffalo Bills beat the New England Patriots 24-10 for their first AFC East victory of the season. Devin Singletary had a 1-yard touchdown run to help the Bills win their third straight and take a half-game lead in the division over Miami. Buffalo had been 0-2 against division foes. Allen became the first player in NFL history with three seasons of 25 passing TDs and five rushing scores. New England has lost two straight since posting a season-best, three-game win streak.
Sunday
Jacksonville Jaguars at Detroit Lions, 1:00 p.m.             Rock 107 WIRX 12:00
Green Bay Packers at Chicago Bears, 1:00 p.m.
Indianapolis Colts at Dallas Cowboys, 8:20 p.m.
NFL – Fields takes big step toward return when Bears host Packers
Chicago Bears quarterback Justin Fields appears poised to return against the Green Bay Packers after missing a game because of an injury to his nonthrowing shoulder. Fields took a big step toward playing by practicing Thursday without limitations after missing last week's loss at the New York Jets. The Bears will try to stop a five-game losing streak and get a rare win over their rivals when they host the Packers on Sunday. Green Bay has won seven in a row against Chicago. Fields separated his left shoulder and suffered some ligament damage in the AC joint when he was tackled on a designed run late in Chicago's loss at Atlanta two weeks ago. He participated in practice on a limited basis leading up to the game at New York and was limited again on Wednesday.
NFL – Lions and Jaguars face off Sunday in possible shootout
The Lions and Jaguars are both coming to Ford Field at 4-7. But the teams have good offenses and two shaky defenses and it could make for an entertaining game. The Lions need to get running back D'Andre Swift going while Jacksonville needs Trevor Lawrence to keep rolling against the struggling Detroit secondary.
NFL – Police identify suspect in Browns' playing field vandalism
Cleveland police have released the name of the man they believe damaged the field at FirstEnergy Stadium by driving a vehicle on it a few days before the Browns hosted the Tampa Bay Buccaneers. The 21-year-old suspect, Anthony Robert Westley O'Neal, has not been arrested. While no charges have been field, police say O'Neal will be a "direct indictment" to the Cuyahoga County Grand Jury. The natural grass playing surface was torn up by the vehicle, leaving tire marks on half the field that were still visible on Sunday during Cleveland's 23-17 overtime victory. The team said its stadium maintenance crew addressed superficial damage to the turf.
NHL – National Hockey League
Saturday
Vegas at Detroit, 7:00 p.m.
Chicago at NY Rangers, 7:30 p.m.
Sunday
Detroit at Columbus, 6:00 p.m.
Chicago at NY Islanders, 7:30 p.m
NCAAFB – College Football – Week 14 – Championship Weekend
Saturday
Big Ten Conference Championship – Lucas Oil Stadium, Indianapolis
(2) Michigan vs. Purdue, 8:00 p.m.                                                  News/Talk/Sports 94.9 WSJM 7:00
NCAAFB – College Football Playoff expands to 12 teams in 2024 season
The College Football Playoff says it will expand to a 12-team event starting in 2024. The announcement came after the Rose Bowl agreed to amend its contract for the 2024 and 2025 seasons. That was the last hurdle CFP officials needed cleared to expand the four-team format. The expansion is expected to produce about $450 million in additional gross revenue for the conferences and schools that participate. The plan to expand the playoff was unveiled publicly in June 2021 and it took 18 months of haggling and delays to finally complete.
NCAAFB – QB Cade McNamara leaving Michigan, transferring to Iowa
McNamara says he's transferring to Iowa after serving as Michigan's backup quarterback this season. McNamara announced his decision on Twitter. He presumably will go into next season as the front-runner for the starting job and have two seasons of eligibility. McNamara started every game for the Wolverines in 2021 but lost the job to J.J. McCarthy after the opener. McNamara appeared in the second and third games and didn't play again. Spencer Petras has struggled as Iowa's starter and has a year of eligibility with the COVID-19 waiver. Alex Padilla backed up Petras and is in the transfer portal.
NCAAFB – AP source: Michigan RB Corum (knee) expected to have surgery
Michigan star running back Blake Corum is expected to have surgery on his injured left knee that will cause him to miss the postseason, according to a person with knowledge of the situation. The person spoke on condition of anonymity to The Associated Press because Michigan was not publicly disclosing Corum's condition. No. 2 Michigan plays Purdue in the Big Ten championship game Saturday night and is likely heading toward its second straight College Football Playoff appearance. Corum was injured late in the first half of the Illinois game two weeks ago. He tried to play last week against rival Ohio State, but could only manage a few plays.
NCAAFB – Michigan lineman Mazi Smith facing concealed weapon charge
Michigan defensive lineman Mazi Smith has been charged with carrying a concealed weapon. The felony was filed this week, nearly two months after the alleged incident. Defense lawyer John Shea says Smith was in the process of getting a concealed-weapon permit when he was stopped by police. Smith is a 21-year-old team co-captain who has started all 26 games for the Wolverines over the past two seasons. No. 2 Michigan is playing Purdue on Saturday for the Big Ten championship. Athletic director Warde Manuel says Smith will continue to participate with the team.
NCAAFB – College Football – Division II Playoffs
Saturday
(2) Ferris State Bulldogs at (1) Grand Valley State Lakers, 1:00 p.m.
NCAAMBKB – Men's College Basketball
Saturday
Syracuse at Notre Dame, 12:00 p.m.
Alma College at Central Michigan, 4:30 p.m.                                     
Sunday
Michigan vs. (4) Kentucky, 1:00 p.m.          at O2 Arena, London, Eng             News/Talk/Sports 94.9 WSJM 12:30
Florida Atlantic at Eastern Michigan, 2:30 p.m.
Northwestern at (20) Michigan State, 7:00 p.m.                                 Superhits 103.7 Cosy-FM 6:00
MLB – Gaylord Perry, two-time Cy Young winner, dies at 84
Baseball Hall of Famer and two-time Cy Young Award winner Gaylord Perry has died at the age of 84. Cherokee County Coroner Dennis Fowler said Perry died at his home in Gaffney, South Carolina, at about 5 a.m. Thursday. The Perry family said that Perry died after a short illness. Perry pitched for eight major-league teams from 1962 until 1983. He won the Cy Young with Cleveland in 1972 and with San Diego in 1978 just after turning 40. Perry was a five-time All-Star who was elected to the Hall of Fame in 1991.
NCAAWBKB – Women's College Basketball
Last Night
(20) Maryland 74, (7) Notre Dame 72
Eastern Michigan 73, North Dakota State 55
Georgia Tech 66, Michigan State 63
(17) Michigan 76, Miami (FL) 64
(20) Maryland 74, (7) Notre Dame 72 – No. 20 Maryland upsets No. 7 Notre Dame at the buzzer, 74-72
Diamond Miller scored 31 points, including the game-winner at the buzzer, to lead No. 20 Maryland to a 74-72 victory over seventh-ranked Notre Dame on Thursday night in the ACC/Big Ten Challenge. Irish guard Sonia Cintron's layup had tied the game with 15 seconds left off before Maryland held for the last shot. Miller hit a contested mid-range jumper just before time expired to give the Terrapins a victory over a top-10 opponent. It was the 15th lead change of the game. Miller also grabbed a game-high 12 rebounds to go along with five assists. Shyanne Sellers added 17 points. Maryland (7-2) picked up its first win over Notre Dame (6-1) since 2007.
(17) Michigan 76, Miami 64 – Brown, Kiser lead No. 17 Michigan women past Miami 76-64
Leigha Brown scored 26 points, Emily Kiser added 20 and No. 17 Michigan eased past Miami 76-64 in the Big Ten/ACC Challenge. The Wolverines didn't get the lead into double figures until Brown's basket two minutes into the fourth quarter and didn't put it there for good until Kiser hit a jumper, Laila Phelia followed with a layup and Maddie Nolan drained a 3-pointer. Michigan won its fourth-straight game in Florida after capturing the Gulf Coast Showcase in Estero last weekend. Any hope Miami had of making a comeback late comeback were dashed by Michigan's efficiency in the fourth quarter — 6-of-9 shooting and 10 of 10 from the foul line. Haley Cavinder scored 17 points for the Hurricanes
Saturday
North Dakota State at Central Michigan, 1:00 p.m.
Western Michigan at Colorado State, 2:00 p.m.
Saturday
North Dakota at Eastern Michigan, 12:00 p.m.
Northwestern at (17) Michigan, 2:00 p.m.
(3) UConn at (7) Notre Dame, 3:00 p.m.
MHSAA – High School Sports
Last Night
Girls Basketball
Buchanan 64, Dowagiac 21
Marcellus 30, Delton Kellogg 18
Galesburg-Augusta 46, Decatur 21
Kalamazoo Loy Norrix 34, Bath 27
Muskegon 66, Kalamazoo Central 62
Mendon 24, Quincy 22
Tonight
Girls Basketball
Watervliet at Lakeshore, 6:30 p.m.
Berrien Springs at Benton Harbor, 7:00 p.m.
Michigan Lutheran at Eau Claire, 6:00 p.m.
River Valley at New Buffalo, 6:00 p.m.
Constantine at Brandywine, 7:00 p.m.
Niles at Three Rivers, 7:15 p.m.
Edwardsburg at Plainwell, 7:15 p.m.
Bangor at Coloma, 6:00 p.m.
Hartford at Saugatuck, 7:00 p.m.
Sturgis at Paw Paw, 7:15 p.m.
Vicksburg at Otsego, 7:15 p.m.
Schoolcraft at Bloomingdale, 6:00 p.m.
Bronson at Centreville, 7:30 p.m.
Gull Lake at Coldwater, 7:00 p.m.
Parchment at Comstock, 7:30 p.m.
White Pigeon at Reading, 7:30 p.m.
Harper Creek at Battle Creek Central, 7:00 p.m.
Grandville Calvin Chr. at Kal. Christian, 7:30 p.m.
G.R. Sacred Heart at Martin, 7:00 p.m.
Kalamazoo Hackett at Onekama, 7:00 p.m.
Fennville at Wyoming-Lee, 7:00 p.m.
MHSAA – Niles football to open new field against St. Joseph
The Niles football team was expecting to play their first game on their new artificial turf field against Dowagiac earlier this year, but delays in installation of the turf caused the Vikings to play their entire season on the road.  But Niles now knows that another rival will be the team they get to play to open their new turf field.   Niles will host former SMAC rival St. Joseph on August 25, 2023.  Niles and St. Joe have played exactly 100 times with the Bears leading 65-33-2.   The series was paused in 2020 when the Vikings left the SMAC and joined the BCS conference before joining the Wolverine a year later.  St. Joseph allowed Niles to play two of their home games at Steve Upton Field at Dickinson Stadium this fall because of the delays. 
FIFA – 2022 FIFA World Cup – Qatar
Yesterday
Morocco 2, Canada 1
Croatia 0, Belgium 0 – draw
Germany 4, Costa Rica 2
Japan 2, Spain 1
Morocco 2, Canada 1 – Morocco reaches last 16 of World Cup, beats Canada 2-1
Morocco has advanced to the last 16 at the World Cup for only the second time after clinging on for a 2-1 win over Canada. The Moroccans' only other trip past the group stage came in 1986. Hakim Ziyech scored for Morocco in the fourth minute after a bad error from Canada goalkeeper Milan Borjan left the winger to chip the ball into an empty goal. Youssef En-Nesyri added a second goal. Canada got one back through an own-goal by Nayef Aguerd but goes home after losing all three games.
Croatia 0, Belgium 0 – Belgium out of World Cup as Croatia advances with 0-0 draw
Croatia advanced to the last 16 of the World Cup with a 0-0 draw against Belgium. Belgium's group-stage exit will likely usher in the breakup of its talented but underachieving generation of players. The point left 2018 runner-up Croatia in second place behind Group F winner Morocco. The Croats have reached at least the semifinals on each of the two times they have advanced to the knockout stage. Belgium was eliminated after scoring only one goal in three games and failed to live up to its status as the second-ranked team and one of the tournament favorites.
Germany 4, Costa Rica 2 – Germany out of World Cup despite 4-2 win over Costa Rica
Germany was eliminated from the group stage of the World Cup for the second tournament in a row. The four-time champions beat Costa Rica 4-2 but it wasn't enough to advance to the round of 16. Japan's 2-1 victory over Spain allowed both of those teams to advance instead. The Japanese team finished at the top of the group. Germany also exited early while playing as defending champions at the last World Cup. Germany coach Hansi Flick says "I believe for the future of German football we need to do things differently in training."
Japan 2, Spain 1 – Japan beats Spain 2-1 as both teams advance at World Cup
Japan scored twice early in the second half to come from behind to defeat Spain 2-1 in a result that put both teams into the last 16 of the World Cup. Ao Tanaka scored the winning goal from close range early in the second half. It took about two minutes for video review officials to confirm the ball hadn't gone out of bounds before the goal. Álvaro Morata scored first for Spain in the 11th minute at Khalifa International Stadium. But Japan rallied after halftime. Ritsu Doan equalized in the 48th with a left-footed shot from outside the box. And Tanaka added the second one three minutes later. Germany was eliminated from the tournament even with a 4-2 win over Costa Rica in the other Group E match. A victory by Costa Rica would have eliminated Spain.
Today – Final day of group play
Ghana vs. Uruguay, 10:00 a.m.
South Korea vs. Portugal, 10:00 a.m.
Cameroon vs. Brazil, 2:00 p.m.
Serbia vs. Switzerland, 2:00 p.m.
Knockout Round
Saturday
United States vs. Netherland, 10:00 a.m.
Argentina vs. Australia, 2:00 p.m.
FIFA – US World Cup win over Iran draws 15.5M on US broadcasts
The United States' 1-0 win over Iran that earned the Americans berth in the World Cup knockout rounds was seen by nearly 15.5 million people on U.S. English- and Spanish-language broadcasts and digital streams. The game was viewed by more than 12 million people on Fox. That included 954,004 digital streams, which is the most for a World Cup match on Fox. The Spanish-language telecast was seen by 2.34 million on Telemundo, and an additional 1.12 million on Telemundo digital and Peacock. The three U.S. group stage matches averaged 11.7 million, up 10% from an average of 10,622,000 for the trio of matches on ESPN in 2014.
FIFA – Hurt on goal, Pulisic hopes to face Netherlands at World Cup
United States midfielder Christian Pulisic hopes to play against the Netherlands in the round of 16 at the World Cup on Saturday after bruising his pelvic bone while scoring in the 1-0 win over Iran. Pulisic is going to consult with the medical staff in the hope of joining the latest training session. He says "I will do everything in my power to work with this medical team and make sure I can play." Pulisic was in pain when he sprawled on the field after colliding with Iran goalkeeper Alireza Beiranvand on Tuesday.
Podcast: Play in new window | Download (Duration: 2:55 — 2.7MB) | Embed
Subscribe: Apple Podcasts | Google Podcasts | Spotify | Amazon Music | iHeartRadio | Stitcher | Email | RSS | More