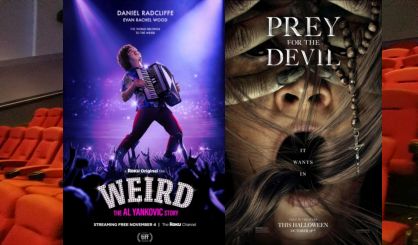 Flick Pick is a podcast about movies. In today's episode, Andrew Green reviews two movies. They are Weird: The Al Yankovic Story and Prey for the Devil.
Andrew saw both movies last weekend. One is a horror film about a nun who tries to save a possessed child. The other is about Weird Al Yankovic.
Can you guess which is which?
What did Andrew think of these films? Will he dare to be stupid enough to give the Weird Al biopic a positive review? What could possibly possess him to give Prey to the Devil a positive review?
Scroll down and find out by listening to this exciting edition of Flick Pick!
Click here to listen to additional episodes of Flick Pick.
Podcast: Play in new window | Download (Duration: 7:44 — 7.1MB) | Embed
Subscribe: Apple Podcasts | Google Podcasts | Spotify | Amazon Music | iHeartRadio | Stitcher | Email | RSS | More