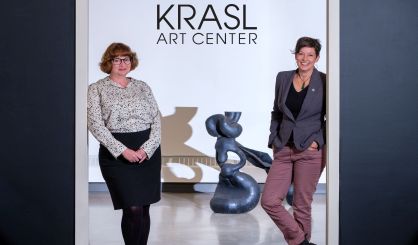 There's a new leadership team in place at the Krasl Art Center. Former Director Julia Gourley Donohue tells WSJM News she is now the senior director of advancement, while Tami Fauver is the director and chief curator. Gourley Donohue says after years of handling both community networking and management, she can focus on growing the Krasl.
"This position really allows me to continue that work for the Krasl Art Center and to set us up for a financially stable and soluble future for the organization," Gourley Donahue said.
Gourley Donohue says the change has been in the works since the spring. After a few years of COVID, she knew it was time to step back a bit.
"I think many of my peers in the community and beyond will empathize with the weight of leading an organization, period, and also leading an organization through the pandemic, and I was doing a lot of soul searching about what I would need to do to better recover for myself."
Gourley Donohue says the new leadership team shows the Krasl is growing and will continue to grow. New Director Tami Fauver says it's her "goal to ensure the art center remains vibrant within the community." Gourley Donohue says supporters won't see a massive change in Krasl and that it will just be stronger moving forward.