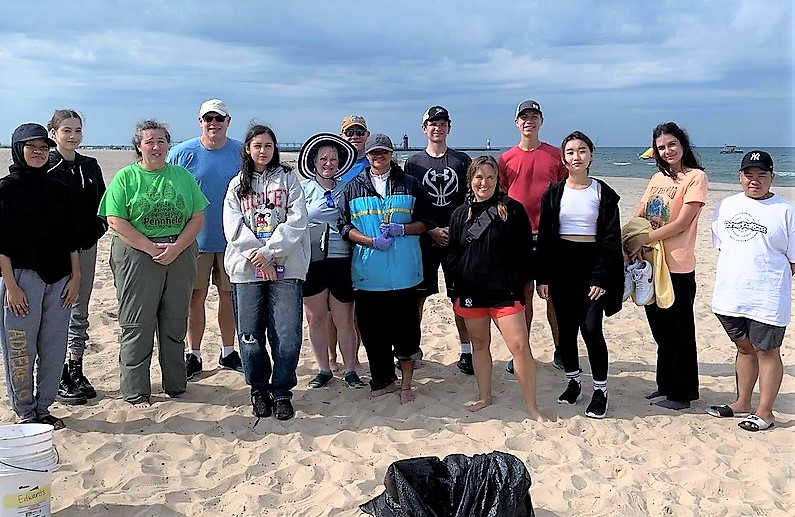 By Ryan Yuenger
ryany@wsjm.com
A nonprofit dedicated to dedicated to cleaning and protecting the Great Lakes has reached a major milestone.
Alliance for the Great Lakes announced Thursday that, through its Adopt-a-Beach program, it has surpassed 500,000 pounds of litter removed from Great Lakes beaches and shorelines through its Adopt-a-beach program. Nearly nine million pieces of litter have been picked up by more than 200,000 volunteers since the program began tracking litter collection data in 2003.
Every year, about 15,000 volunteers hit the beach and remove about 18 tons of trash, according to the nonprofit. A group from Pennfield High School in Battle Creek was a part of a recent cleanup event in South Haven. 
"That number really makes you think of all the individuals over the past two decades that have participated in the program," said Volunteer Engagement Manager Juliann Krupa. "This summer, I got a chance to travel a little bit all around the Great Lakes region, and I was really filled with a lot of hope at how many Great Lakes advocates are out there."
On the flip side, Krupa said all that litter is just a "drop in the bucket" when compared to the pollution that goes into the Great Lakes every year. According to the Rochester Institute of Technology, more than 22 million pounds of plastic pollution end up in the Great Lakes every year. The data collected by Alliance for the Great Lakes shows 85% of the litter picked up is plastic.
"It's a huge, worrying number," Krupa said. "But, I'm excited about the potential that reaching this [500,000 pound] goal has to shine a spotlight on the magnitude of this issue. I'm excited about the fact that this is an issue that is forefront in the public consciousness and that it will receive increasing attention as we learn more about how plastics are entering resources like our drinking water and how they are affecting aspects of human health."
Researchers have found high amounts of tiny plastic pieces in all five Great Lakes, which provide drinking water for 40 million people. They've found microscopic pieces of plastic in drinking water and even beer brewed from Great Lakes water. 
For Krupa and the Alliance for the Great Lakes, the Adopt-a-Beach events are about more than just cleaning up trash.
"These cleanups really act as education and awareness to get people thinking about this issue and all the ways they can participate as stewards of the environment," Krupa said. "Whether that's actually on the beach or through advocacy and action in other ways."
In addition to removing plastic pollution and advocating for clean drinking water, the nonprofit is actively working toward removing invasive species like zebra mussels from the lakes, fighting agricultural pollution and promoting environmental justice.
Krupa said they plan on hosting more events in southwest Michigan before the year is over. Even if there are no events scheduled, she said residents can go to greatlakes.org/get-involved to create their own event or find out how else to contribute to the solution.
"The Adopt-a-Beach program runs year-round," Krupa said. "If you don't want to go out and brave the winter winds, winter is a great time to read more and learn more so when advocacy opportunities come up, you are more informed."
While there is still more to be done, Krupa wanted to thank everyone who has participated in any form of clean up on the Great Lakes.
"Thank you so much for your dedication to and sense of pride in the Great Lakes," she said. "We really appreciate it, and are looking forward to more great seasons in the future."
(Photo of South Haven cleanup courtesy Alliance for the Great Lakes)