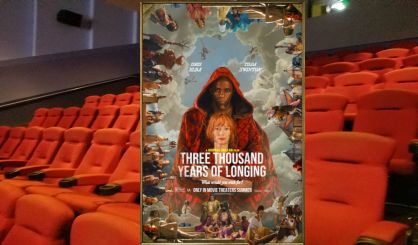 Flick Pick is a podcast about movies. In today's episode, Andrew Green reviews Three Thousand Years of Yearning, which is a movie currently in theaters.
Three Thousand Years of Yearning stars Tilda Swinton as a woman who buys an antique bottle at a market place in Istanbul. When she tries to clean it, a genie played by Idris Elba comes out.
He offers to grant her three wishes, but there's a problem: she doesn't want anything.
Did Andrew enjoy Three Thousand Years of Longing, or did he want to put this genie back in the bottle?
Scroll down and click the Play icon to find out by listening to this fantastical edition of Flick Pick!
Click here to listen to additional episodes of Flick Pick.
Podcast: Play in new window | Download (Duration: 4:01 — 3.7MB) | Embed
Subscribe: Apple Podcasts | Google Podcasts | Spotify | Amazon Music | iHeartRadio | Stitcher | Email | RSS | More