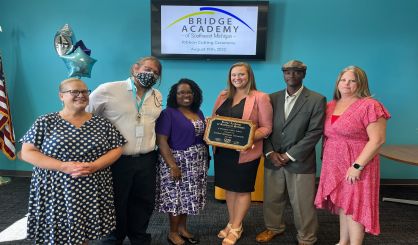 The ribbon cutting has been held for the new Bridge Academy of Southwest Michigan in Benton Harbor. The Bridge Academy is a partnership between Michigan Works and The Bridge Academy of Southwest Michigan public-school academy. School leader Allie Knapp tells WSJM News it's a charter high school with a specific focus on career training.
"We focus on being small and intimate," Knapp said. "So, we make sure that students who maybe sometimes feel lost in the crowd or a little too much chaos with a traditional school, we want to create that family atmosphere that lets the students really know the staff. So, with that, a student gets a success coach as part of their enrollment."
Knapp says the career programs mostly focus on healthcare, manufacturing, and hospitality. The Bridge Academy has been around for years, but not as an independent entity.
"Throughout the better part of a decade the Bridge Academy as a program existed with local partner districts. We previously were with Benton Harbor, with Coloma, and eventually with Berrien Springs. When we evolved into a charter school, we branched out on our own."
Knapp says the Bridge Academy is located at the Michigan Works facility in Benton Harbor and has about 90 students signed up for the new school year. The curriculum is online with in-person cohorts two days a week. The charter is authorized through Central Michigan University and students will graduate with a Merit Curriculum diploma and career training certificate. Any students interested can contact Michigan Works.