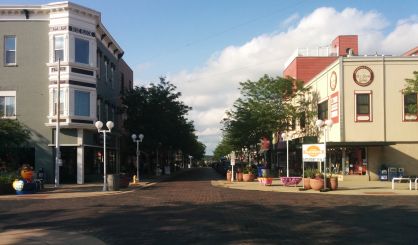 St. Joseph Today is reporting success when it comes to the Downtown Social District in downtown St. Joe. Events manager Daniele Crevier tells WSJM News the social district is in its second year. It's a marked area of the downtown where someone can carry an alcoholic beverage purchased at a participating business nearby. It was created during the pandemic.
"When we had those restricted capacity limits in restaurants, it was to kind of help them make up that lost profit and to get people out in the streets to be able to social distance," Crevier said.
Crevier says the district has worked.
"It's been a great thing to provide businesses and restaurants with added profits, and I know we've printed over 17,000 social district stickers."
Crevier says nine downtown businesses participate. She sees the effects of the district all the time, including this past weekend when Chalk the Block had a lot of people coming downtown. The district was created when St. Joseph City Commissioners opted to allow it under a state law. More than 40 cities statewide have social districts, and the district in St. Joe is authorized through the end of 2024.