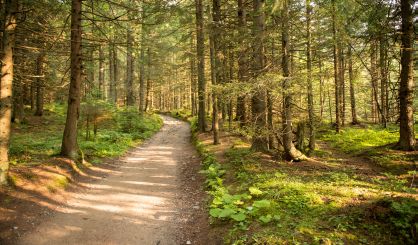 The Friends of Berrien County Trails has wrapped up a series of workshops seeking the public's thoughts on how the county's trails system should develop. People gathered at the Southwest Michigan Planning Commission office in Benton Harbor this week to look at maps of available trails and proposed trails. The commission's Marcy Hamilton tells WSJM News they were asked to take part in a few exercises.
"The first one is they get to vote on their top six routes they'd like to see implemented," Hamilton said. "The second activity is they get to kind of tells us where they think there are problems in the county and their ideas for fixing them."
Attendees could also offer positive comments. Hamilton says that's not all.
"The next station is basically looking at hiking trails, equestrian trails, mountain biking trails, and asking what folks what would make their experiences better or where they would like to see other facilities."
People placed stickers on maps to indicate where they'd like a trail, among other things. Hamilton says the Southwest Michigan Planning Commission is working on a trails master plan to be ready in the fall. Each municipality in the county will be asked for support. Information from the workshops that wrapped up Wednesday will be used in the plan. You can find out more at BerrienTrails.org.