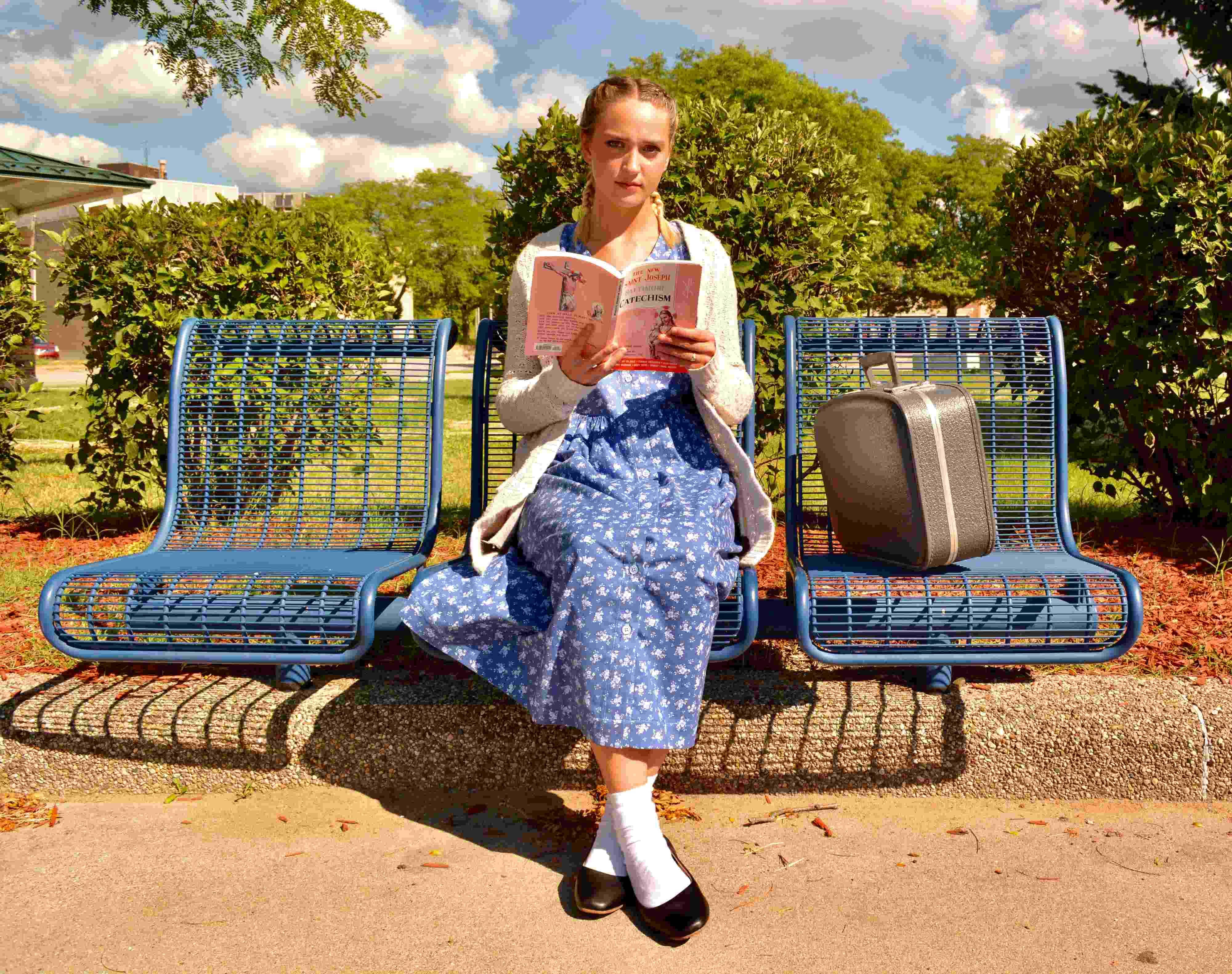 The final performances of the summer at one local theater promise to take audiences on a journey – both figuratively and literally.
The GhostLight Theatre, 101 Hinkley Street, Benton Harbor, is set to conclude its 2022 Summer Season with eight performances of the award-winning musical "Violet" from August 18-28.
Based on the short story "The Ugliest Pilgrim" by Doris Betts, "Violet" follows a severely disfigured young woman who has never left her small farm town. Convinced the healing powers of a televangelist will help her disfigurement, Violet (played by Emilie Kurtz) hops onboard a bus in rural North Carolina with her sights set on Tulsa, Oklahoma.
Along the way, Violet learns journey of personal growth and enlightenment is aided by the people she meets on the bus– a young black soldier, Flick (Richard Allen III); a gospel singer, Lulu (Cindy L. Goodson); and another soldier named Monty (Seamus Doyle).
"The physical scar she carries is a metaphor throughout the play," said GhostLight Theatre Interim Executive Director Ed Tracy. "You don't actually see the scar, but you see people's reactions to it."
Show director and GhostLight Artistic Director Paul Mow said the musical touches on profound cultural issues that still resonate today.
"The objectification of women and women's validity based on their looks," Mow said. "The juxtaposition in race relations with a young white woman falling in love with a young black man in the deep South of 1964. There's also ableism, and whether or not she's able to have a normal life with facial disfigurement. … There's a lot of great musical themes, a lot of great theatrical themes and real life themes for us to take away from the show."
The audience also is treated to regional musical stylings  as the bus makes stop in different parts of the south. From rural Carolina folk and Nashville country to Memphis rhythm & blues and Oklahoma gospel.
"It's a love story," Tracy said. "But it's also about all of this ableism and prejudice. It's about how we judge ourselves, how we judge others and how we can get over that and ultimately grow and prosper."
"Violet" runs over two weekends, with evening performances Thursday through Saturday at 7:30 p.m. and Sunday matinees at 3:00 p.m. Hannah Winston plays the role of Violet on August 20 and 26. Tickets often sell out at the small black box theater, so Mow recommends buying in advance at the GhostLight Theatre website.
Cast: Emilie Kurtz, Hannah Winston, Richard Allen III, Seamus Doyle, Lucas Seven, Kelly Collins, Paige Mulick, Christian Roose, Kate Mosher, Carrie VanDenburgh, Meggie Anderson, Jonathan Clough, Eric Theale, Brady West, Alex Giorgio, Madison Jackson, Einra Baker and Abbi Kalin.
Creative Team: Paul Mow (Director), Joshua Goines (Music Director), Madison Jackson (Assistant Director), Paige Mulick (Choreographer) Dan Maxon (Lighting/Sound), Brooke Hare (Stage Manager), Julie Smiy (Costumes) and Madi Lee (Assistant Stage Manager).