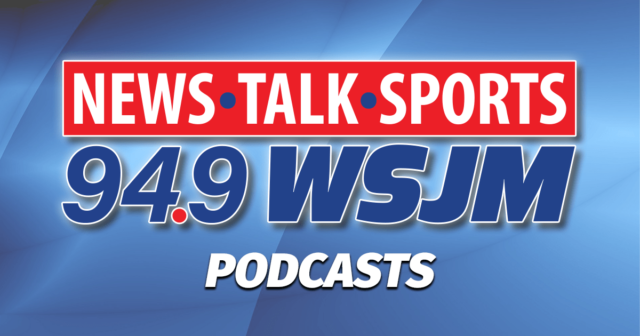 MLB – Major League Baseball
Yesterday
Detroit Tigers 7, Oakland A's 2 – Game 1
Oakland A's 5, Detroit Tigers 0 – Game 2
Cubs and White Sox were off
Tigers 7, A's 2 / A's 5, Tigers 0 – Murphy's 3-run homer helps A's split DH with Tigers
Sean Murphy hit a three-run homer to highlight Oakland's five-run sixth inning that broke up a scoreless game, and the Athletics beat the Detroit Tigers 5-0 to split a doubleheader. Murphy connected for his 10th homer — his second straight season in double digits — off Garrett Hill, a rookie making his third major league start. Stephen Vogt added a sacrifice fly and Tony Kemp an RBI single in the fifth for the A's, who threw their sixth shutout of the season. In the first game, Jeimer Candelario homered and Robbie Grossman doubled twice and drove in three runs against his former team as Detroit won 7-2.
Tonight
Chicago Cubs (Steele 3-6) at Philadelphia (Gibson 5-3), 7:05 p.m.
Cleveland (Quantrill 6-5) at Chicago White Sox (Giolito 6-5), 8:10 p.m.
Tigers are off (Detroit will host Minnesota Saturday at 6:10 p.m.  WSJM/WCSY 5:50)
MLB – MLB struggling to get attendance back to pre-pandemic levels
Blame it on lingering effects of the pandemic, resentment over the lockout or fears over the economy. Major League Baseball teams head into the final 2½ months of the regular season struggling to fill the stands now that they no longer have to worry about pandemic-related attendance restrictions. MLB reached the All-Star break with an average attendance of 26,409. That represents a drop of 5.4% from the All-Star break of 2019. That's the last season that wasn't impacted by the pandemic.
WNBA – Women's National Basketball Association
Yesterday
Las Vegas Aces 90, Indiana Fever 77
Aces 90, Fever 77 – Wilson, Gray help Aces hand Fever 11th straight loss 90-77
A'Ja Wilson scored 23 points, Chelsea Gray had 14 points and 12 assists and the Las Vegas Aces dealt the Indiana Fever a club-record 11th straight loss, 90-77 on Thursday night.  Wilson scored 14 points and Gray added 12 points and seven assists as the Aces (19-8) built a 52-32 lead by halftime. Las Vegas, which led 25-19 after one quarter, scored the first eight points of the second and led by double digits the rest of the way.  Wilson gave the Aces their largest lead at 68-37 with a 3-pointer at 4:44 of the third period. Jackie Young added 16 points for Las Vegas, and Dearica Hamby finished with 10 points and nine rebounds. Nalyssa Smith scored 24 points to lead Indiana (5-24). Victoria Vivians scored 14 points and Kelsey Smith added 10 points and seven assists.
Tonight
Dallas Wings at Chicago Sky, 8:00 p.m.
WNBA – Moscow says US must respect Russian law in Griner case
The spokesperson for Russia's Foreign Ministry says the United States has shown disrespect for Russian law by characterizing basketball star Brittney Griner's jailing on drug charges as "wrongful detention." Griner has been jailed since she was arrested in mid-February at a Moscow airport after vape canisters containing cannabis oil were found in her luggage. The Phoenix Mercury standout and two-time Olympic gold medalist acknowledged in court this month that she had the canisters, but said she had no intent to break the law. Russian Foreign Ministry spokeswoman Maria Zakharova said Thursday that the legalization of cannabis for medical and recreational use in parts of the U.S. has no bearing on what happens in Russia.
NFL – Murray, Cardinals agree to contract through 2028 season
Kyler Murray has agreed to a long-term contract that will keep the quarterback with the Arizona Cardinals through the 2028 season. The two-time Pro Bowl selection was taken with the No. 1 overall pick out of Oklahoma after he won the Heisman Trophy and has largely delivered in his quest to make the Cardinals a better franchise. Arizona had a 5-10-1 record during his rookie season in 2019 but the Cardinals improved to 11-6 last season before losing to the Los Angeles Rams in the NFC Wild Card round during the playoffs.
NBA – Philadelphia 76ers look to build new $1.3 billion arena
The Philadelphia 76ers are taking the first steps toward building a privately-funded sports and entertainment arena. The team's managing partners on Thursday announced the creation of a new development company to create its future home in the city's Fashion District. They say 76 Place is anticipated to cost about $1.3 billion. Josh Harris and David Blitzer say in a news release they're committed to creating "a privately funded arena that strengthens ties within the local community through investments that prioritize equity, inclusivity and accessibility." Groundbreaking is not expected for several years and the project is expected to be finished in time for the 2031-2032 NBA season. The Sixers currently play at Wells Fargo Center.
NCAAFB – Georgia's Smart gets 10-year extension, raise to $10.25M
Georgia's Kirby Smart has agreed to a contract extension through the 2031 season worth more than $110 million that strengthens his status as one of college football's highest-paid coaches. Smart will be paid $10.25 million this season in base salary and supplemental compensation. He will receive raises each season, which lead to total compensation of $12.25 million in 2031. The extension comes after Smart led the Bulldogs to last season's national championship, the first for Georgia since 1980. He is 66-15 in six years at Georgia. Smart joins Alabama's Nick Saban, Ohio State's Ryan Day, LSU's Brian Kelly, Michigan State's Mel Tucker and Texas A&M's Jimbo Fisher as college football coaches who will make at least $9 million in 2022.
Track and Field – Lyles leads U.S. sweep; Jackson tops Jamaica 1-2 in 200
Noah Lyles led wire to wire and routed the field in the 200 meters Thursday in 19.31 seconds, the third-fastest time ever, to lead America's second sprint sweep at world championships. Lyles blew away U.S. teammates Kenny Bednarek by 0.46 seconds, with 18-year-old Erriyon Knighton finishing third. When the winner saw the names of his American teammates pop up behind his, he slammed his hands on the ground, ripped off his jersey and grabbed the gold medal from the awaiting presenter. His victory came moments after Shericka Jackson gave the Jamaican women another gold in the sprints. She ran 21.45, the second-fastest time in history, to beat 100-meter champion Shelly-Ann Fraser-Pryce.
Olympics – Tokyo Olympic aftermath still being untangled a year later
The COVID-delayed Tokyo Olympics opened a year ago on July 23, 2021. They survived the one-year postponement, soaring costs and some public opposition. The aftermath is as difficult to untangle as the Games were to pull off. The Games were to drive tourism and showcase Japanese technology. The pandemic squelched that. The official price tag is $13 billion. The Tokyo city government picked up $5.4 billion in Games expenses and it is now trying to champion post-Games uses for a half-dozen new venues. The head of the Tokyo Games says a main legacy will be using Tokyo to drive a bid for the 2030 Winter Olympics in Sapporo.
Cycling – Chris Froome out of Tour de France with COVID-19
Four-time Tour de France champion Chris Froome has pulled out of cycling's biggest race after testing positive for COVID-19. Froome withdrew from the Tour ahead of Stage 18 from Lourdes to Hautacam in the Pyrenees. Froome says in a video message he will now refocus on competing at the Spanish Vuelta next month.
HSBB – Former coach criminally charged in naked 'fat test' case
A Rhode Island high school basketball coach has been criminally charged by authorities who say he asked male student-athletes to remove their clothes so he could check their body fat. Aaron Thomas was charged Thursday with child molestation and sexual assault involving two students. Thomas coached boys at North Kingstown High School since the 1990s until he resigned last year. A lawyer for Thomas says that his client denies wrongdoing and that the tests bettered the athletic performance of many students. Arraignment is scheduled for Aug. 19.
MILB – Midwest League Baseball
Tonight
Quad Cities River Bandits at South Bend Cubs, 7:05 p.m.
Lake County Captains at Lansing Lugnuts, 7:05 p.m.
West Michigan Whitecaps at Great Lakes Loons, 7:05 p.m.
Podcast: Play in new window | Download (Duration: 2:56 — 2.7MB) | Embed
Subscribe: Apple Podcasts | Google Podcasts | Spotify | Amazon Music | iHeartRadio | Stitcher | Email | RSS | More