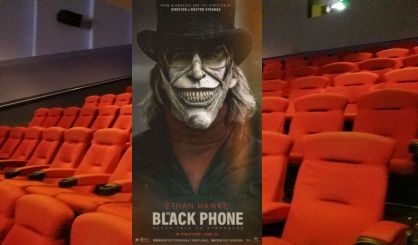 Flick Pick is a podcast about movies. In today's episode, Andrew Green reviews The Black Phone, which is a horror movie in theaters.
The Black Phone is about a boy who gets kidnapped by a child killer and locked in a basement. There's a broken phone in the basement. Our hero starts receiving calls on the broken phone from previous victims of the killer. They offer our hero clues for escaping.
Did Andrew enjoy The Black Phone, or did he want to hang up?
Find out by clicking the Play icon to listen to this spooktastic edition of Flick Pick!
Click here to listen to additional episodes of Flick Pick.
Podcast: Play in new window | Download (Duration: 5:32 — 5.1MB) | Embed
Subscribe: Apple Podcasts | Google Podcasts | Spotify | Amazon Music | iHeartRadio | Stitcher | Email | RSS | More