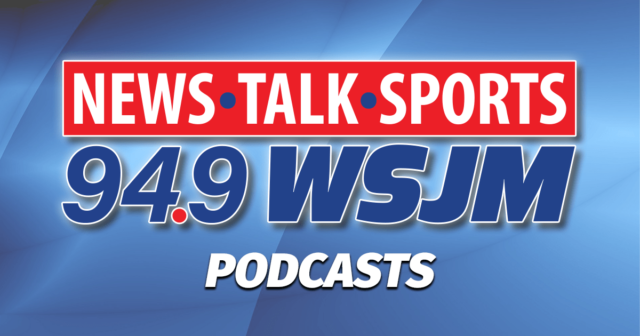 NHL – Blackhawks begin dismantling, trade DeBrincat and Dach
The long-anticipated dismantling of the Chicago Blackhawks' roster has begun with the team trading Alex DeBrincat to the Ottawa Senators and Kirby Dach to the Montreal Canadiens. Chicago eventually made three trades in going from having no picks in the first-round of the NHL draft to selecting three times. The Blackhawks got the seventh pick and two others for DeBrincat and No. 13 for Dach. Now the situation turns to the future of longtime Blackhawks stars Jonathan Toews and Patrick Kane with the organization aimed at extending its rebuild over the long term. Their matching contracts expire after next season. Chicago added a third first-round pick at No. 25 by acquiring goalie Petr Mrazek from Toronto.
NHL – Canadiens take Juraj Slafkovsky with top pick in NHL draft
The Montreal Canadiens have selected Slovak winger Juraj Slafkovsky with the first pick in the NHL draft. He's the first player from Slovakia to be taken No. 1. The previous best was Marian Gaborik going third in 2000. This was the first year in nearly a decade there was suspense about who was going to be the No. 1 pick right up until the player's name was called. The Canadiens said they were considering Slafkovsky, Canadian center Shane Wright and American forward Logan Cooley. The New Jersey Devils surprisingly selected Slovak defenseman and Slafkovsky Olympic teammate Simon Nemec with the second pick.  
NHL – Red Wings select Center Marco Kasper from Sweden
Detroit Red Wings general manager continued his pattern of going slightly off of the board for their selection in the 2022 NHL Draft.  The Red Wings selected center Marco Kasper with the 8th overall pick. The 18 year old Austrian born player scored seven goals and had 4 assists in 46 games played for Rogle of the Swedish Hockey League.   Yzerman also went slightly off the board when they selected German defenseman Moritz Seider with the 6th overall pick in the 2019 draft.  Seider won the NHL's Calder Trophy this past season as the Rookie of the Year.
MLB – Major League Baseball
Yesterday
Detroit Tigers 2, Chicago White Sox 1
Los Angeles Dodgers 5, Chicago Cubs 3
Tigers 2, White Sox 1 – Rookie Brieske outduels Cease, Tigers beat White Sox 2-1
Rookie Beau Brieske tossed two-hit ball into the seventh inning while outpitching Dylan Cease, Javier Báez homered and the Detroit Tigers hung on beat the Chicago White Sox 2-1. The Tigers won their fifth straight. They began this four-game series against the reigning AL Central champs after a four-game home sweep of the Guardians, their first against Cleveland in nine years. Spencer Torkelson had an RBI single in the ninth to give Detroit a 2-0 lead. Chicago then made it interesting in the bottom half against closer Gregory Soto, who earned his 17th save. Luis Robert had a one-out RBI double before Soto struck out two batters to end it.
Dodgers 5, Cubs 3 – Gonsolin goes to 11-0, Dodgers get 4 HRs to beat Cubs 5-3
Tony Gonsolin pitched seven strong innings for his 11th victory in the Los Angeles Dodgers' 5-3 win over the Chicago Cubs. Mookie Betts hit a pair of leadoff homers and the Dodgers got a two-run blast from Gavin Lux and a solo shot by Justin Turner. Gonsolin is the first Dodgers pitcher to start a season 11-0 since Alex Wood in 2017. He and Houston's Justin Verlander are tied for most wins in the majors. The NL West-leading Dodgers won their fourth in a row. The Cubs got a two-run homer from Christopher Morel in the fifth.
Tonight
Detroit (Skubal 5-7) at Chicago White Sox (Giolito 5-4), 8:10 p.m.                WSJM/WCSY 7:50
Chicago Cubs (Thompson 7-3) at L.A. Dodgers (Anderson 9-1), 10:10 p.m.
NBASL – NBA Summer League
Last Night
Detroit Pistons 81, Portland Trailblazers 78
– (DET) Jaden Ivey 20 Points, Saban Lee 13 points, Isaiah Stewart 13 points, Braxton Key 11 points, Cade Cunningham DNO
Today
Chicago Bulls vs. Dallas Mavericks, 4:00 p.m.
NBA – Bulls finalize max contract with two-time All-Star LaVine
The Chicago Bulls say they have re-signed Zach LaVine, after the high-flying guard agreed to a five-year max contract worth about $215 million last week. LaVine had said he wanted to explore the market as an unrestricted free agent for the first time after eight seasons in the NBA and five with the Bulls. If he went shopping, it was a quick trip. He announced his decision about 18 hours after the free-agent negotiating period began. Executive vice president of basketball operations Arturas Karnisovas praised LaVine's work ethic while saying the Bulls "look forward to more great things from Zach." LaVine averaged 24.4 points in the final season of a four-year, $78 million deal.
WNBA – Women's National Basketball Association
Last Night
Chicago Sky 93, Indiana Fever 84
Sky 93, Fever 84 – Chicago secures home court for the Commissioner's Cup game
Emma Meesseman scored 20 points, Candace Parker had 12 points, nine rebounds and five assists and the Chicago Sky beat the Indiana Fever 93-84 to secure home court for the Commissioner's Cup game. Chicago will host Las Vegas on July 26 for the Commissioner's Cup. Julie Allemand beat the third-quarter buzzer with a long 3-pointer to extend Chicago's lead to 77-57 after a 29-point frame. Indiana scored 18 of the opening 27 points of the fourth, but Chicago held on. Azura Stevens scored 16 points and Allie Quigley added 13 for Chicago. Courtney Vandersloot had seven points and six assists. Kelsey Mitchell scored 27 points and rookie NaLyssa Smith had her sixth double-double with 20 points and 11 rebounds for Indiana.
Sunday
2022 WNBA All Star Game – Wintrust Arena, Chicago, IL
Team Stewart vs. Team Wilson, 7:00 p.m.
WNBA – WNBA's Griner pleads guilty at her drug trial in Russia
WNBA star Brittney Griner pleaded guilty to drug possession charges on the second day of her trial in a Russian court in a case that could see her sentenced to up to 10 years in prison. Her abrupt guilty plea came amid a growing chorus of calls for Washington to do more to secure her freedom nearly five months after her arrest amid rising tensions between the U.S. and Russia over Ukraine. A senior Russian diplomat said earlier that no action could be taken by Moscow on Griner until the trial was over. Griner was detained at a Moscow airport while returning to play basketball in Russia. Police said they found vape canisters containing cannabis oil in her luggage.
Tennis – Wimbledon – Injured Nadal out of Wimbledon; Kyrgios advances to final
Rafael Nadal has withdrawn from Wimbledon a day before he was supposed to play in the semifinals because of a torn abdominal muscle. Nadal announced that he was pulling out of the Grand Slam tournament at a news conference Thursday. The 22-time Grand Slam champion was scheduled to face Nick Kyrgios for a berth in the final on Friday. Kyrgios advanced to his first final at a major tournament. He will meet either Novak Djokovic or Cam Norrie for the championship on Sunday.
Tennis – Wimbledon – Jabeur 1st woman from Africa in pro Slam final
Ons Jabeur has reached her first Grand Slam final with a 6-2, 3-6, 6-1 victory over good friend Tatjana Maria at Wimbledon. Jabeur is a 27-year-old from Tunisia who is the first African woman and Arab woman to get to the title match at a major tennis tournament. Maria is a 34-year-old German who is ranked 103rd and never had made it past the third round of a Grand Slam event before. The third-seeded Jabeur next will face 17th-seeded Elena Rybakina of Kazakhstan for the championship on Saturday. Rybakina overwhelmed 2019 Wimbledon champion Simona Halep 6-3, 6-3 in the second semifinal. She also will be making her major final debut.
Pac-12 facing uncertain future after losses to Big Ten
The Pac-12 can make a case as the most successful conference in collegiate athletics, amassing more than 500 NCAA championships while leading the nation in titles 56 of the past 62 years. But when it comes to the biggest moneymakers, football and men's basketball, the conference has come up short for years. The lack of success, particularly in football, combined with the conference's media rights missteps put the Pac-12 on shaky financial footing, opening the door for two marquee schools to jump ship. Now the conference and its remaining member schools face an even more uncertain economic future.
NFL – Dome for Soldier Field? Panel says Chicago should explore it
A panel appointed by Chicago Mayor Lori Lightfoot recommended the city explore enclosing Soldier Field, part of an effort to convince the NFL's Chicago Bears to remain in their lakefront home rather than leave for the suburbs. The panel also recommended expanding capacity of the stadium with the fewest seats in the NFL as well as installing synthetic turf and selling naming rights. Adding a roof or a dome might lure Super Bowls and Final Fours as well as more concerts. The group's work is part of a bigger proposal to transform a stretch of land that also includes the Field Museum, Shedd Aquarium, Adler Planetarium and McCormick Place lakefront building. It includes improved transportation and making the area more bike friendly.
NFL – Bears WR Moore arrested on drug, weapons charges in Texas
Chicago Bears receiver David Moore was arrested on drug and weapons charges in his hometown of Gainesville, Texas, last weekend. Gainesville police say officers responding to a possibly intoxicated person at a Taco Bell drive-thru late Sunday night found Moore asleep in the driver's seat of a silver 2018 Ford F250. Officers smelled marijuana while talking to Moore and found a package of THC edible candies and three pistols while searching the vehicle. Police arrested Moore and charged him with possession of a controlled substance and unlawful carrying weapons. The Bears say they are aware of the arrest and "are in the process of gathering more information." They said they would "refrain from making any further comment."
NFL – Commanders owner Dan Snyder, House committee at odds
Dan Snyder's attorney told the Committee on Oversight and Reform the Washington Commanders' owner is willing to testify by video conference regarding the investigation into the team's workplace culture following accusations of pervasive sexual harassment by team executives of women employees. In a letter sent to the committee and obtained by The Associated Press, attorney Karen Patton Seymour said Snyder is traveling outside the country and available for video testimony July 28 and 29. Seymour expressed concern because the committee countered with dates that conflict with her travel schedule and Snyder's.
Biden awards Medal of Freedom to Biles, McCain, Giffords
President Joe Biden has presented the nation's highest civilian honor to 17 people, including gymnast Simone Biles and the late Arizona Republican Sen. John McCain. Biden and McCain served together in the Senate. The president, who took office during the coronavirus pandemic, also honored Sandra Lindsay, the New York nurse who received the first dose of COVID-19 vaccine that was administered in the U.S. outside of clinical trials. Others receiving the Presidential Medal of Freedom were gun safety advocate Gabrielle Giffords, U.S. women's national soccer team player Megan Rapinoe and late Apple co-founder Steve Jobs.
Soccer – US women beat Jamaica 5-0 at the W Championship
The U.S. women's national team qualified for the 2023 World Cup on Thursday night at the CONCACAF W Championship. The United States defeated Jamaica 5-0 at Estadio BBVA but had to wait until Haiti downed Mexico 3-0 in the late game to secure a spot in next summer's World Cup in Australia and New Zealand. With two victories at the W Championship, the United States was atop its group and became the first team to win one of four World Cup berths up for grabs.
MILB – Midwest League Baseball
Last Night
West Michigan Whitecaps 7, Dayton Dragons 3 – Game 1
Dayton Dragons 5, West Michigan Whitecaps 0 – Game 2
South Bend Cubs 8, Wisconsin Timber Rattlers 6
Lansing Lugnuts 10, Great Lakes Loons 1
Last Night
West Michigan Whitecaps at Dayton Dragons, 7:05 p.m.
Wisconsin Timber Rattlers at South Bend Cubs, 7:05 p.m.
Great Lakes Loons at Lansing Lugnuts, 7:05 p.m.
Podcast: Play in new window | Download (Duration: 3:01 — 2.8MB) | Embed
Subscribe: Apple Podcasts | Google Podcasts | Spotify | Amazon Music | iHeartRadio | Stitcher | Email | RSS | More