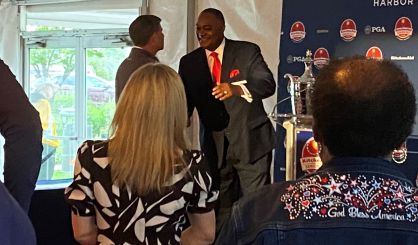 One of the biggest cheerleaders for southwest Michigan is one of the men who has done quite a bit to improve the quality of life in the area. Jeff Noel is the corporate vice president for communications and public affairs for Whirlpool, and previously worked for Cornerstone Alliance. He spoke at Harbor Shores Friday morning about the course and KitchenAid Senior PGA Championship and other things he's been involved with.
"It becomes a vehicle for the community to talk about the great things it's done, the great things it's going to do, but also becomes a great vehicle to showcase all the people who do this everyday, not me. It's the people who volunteer, the people who lead the organizations, and it's people who go to schools everyday and it's really people here, through the vehicle that is Harbor Shores, that we hope the world comes so we can get outside investment and new people living here."
He is leaving the area to take a government job in Kentucky this summer. Noel was awarded a mayoral medallion by Benton Harbor Mayor Marcus Muhammad at the event.