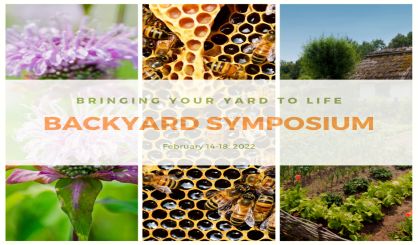 The Van Buren Conservation District is planning a weeklong virtual symposium to help southwest Michigan residents better understand how to manage their yards and gardens. Van Buren Conservation District Deputy Administrator Emilly Hickmott tells WSJM News the district each year holds its program for farmers, but she knows there are many people who just want to improve their backyards or vegetable gardens. "Building a Better Backyard: Bringing Your Yard to Life" is for them.
"It's a way for folks to get together on Zoom from all across the state, all across the country, or just within out own community, and we try to bring together speakers, one each day, who will talk about things to help folks transform their yard into a haven with the environment in mind."
Hickmott says the series taking place the week of February 14 will be free. Each day has a different virtual presentation, and when it's all done, they'll be made available to attendees on YouTube. Topics will include "Natives and Nativars: Exploring the Difference," "BeeYond the Bees' Knees," and "Don't Spray, Let The Insects Prey." Others will look at mushrooms and permaculture. You can register for the symposium at the website of the Van Buren Conservation District.