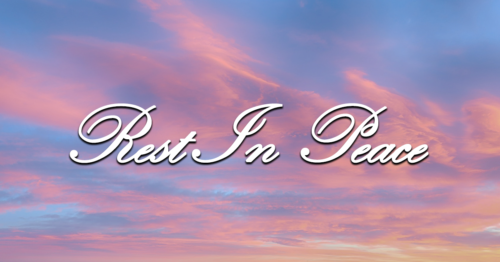 Erma Claudine (Goins) Brunty, age 78, of Cassopolis, departed her Earthly Life to begin her Eternal Life on Monday, January 10, 2022 in the comfort of her home.  Erma transitioned peacefully and quietly, just like she lived her life.
Her life began October 19,1943 in Cassopolis the fourth of eight children born to Jacob and Evelyn Goins. Erma attended grade school in a one room school house in Calvin Township and graduated from Cassopolis High School in 1963. On December 24, 1964 she married Robert Earl Brunty in Cassopolis, Michigan. To that union they were blessed with two children, Monica and Kenny.  Erma was a member of Full Gospel Fellowship Church of Elkhart, Indiana under the leadership of Pastor Herman Washington.
Erma worked at Cass County Medical Care Facility for many years until she retired in the late 1990's. She played on a bowling league, winning many trophies and had a 150 average. She was blessed to bowl with her husband and her son, Kenny on many occasions. Erma liked to crochet, watch old westerns, and her favorite gameshows; The Price Is Right, Let's Make A Deal, and Family Feud.
Erma will be greatly missed by family and friends.  She leaves to cherish her memory, her husband of fifty-seven years, Robert Earl Brunty of Cassopolis; two daughters, Monica (Mo Morgan) Brunty and Shatina Brunty, both of Cassopolis; three sons, Nike Brunty, Tyler Brunty, Zadden Brunty, all of Cassopolis; six granddaughters, Nakisha Washington of Niles, Michigan, Terriana "TT" Walker and Honesty Triplett, both of Indiana, Kendall O'brie , Leighton Seria Brunty, Za'Rya Brunty all of Cassopolis; two grandsons, Za'Kyri Crews of Indiana, Kaid Haankwenda of Cassopolis and one grandchild on the way; two brothers, Dick (Patty) Goins, Roger Goins both of Cassopolis; two sisters-in-law, Janice (William) Jennings, Mattie Dumas, both of Eupora, Mississippi; two brothers-in-law, James Brunty of Austell, Georgia, the Reverand William Jennings of Eupora, Mississippi; and special cousins, Brenda, Gregory and Roddy Copley and a host of nieces, nephews, cousins and friends.
She was preceded in death by her son, Kenneth J. Brunty; and one granddaughter, Taytum Brielle; her parents; two brothers, Clarence and George; three sisters, Margaret, Betty, and Cynthia; father and mother-in-law, Dan and Carrie Brunty; three sisters-in-law, Earline, Ida Mae, and Meveline Jean; and one brother-in-law, Dan Jr.
Family and friends will gather Thursday, January 20, 2022 from 4:00 p.m. until 6:00 p.m. in Wagner Family Funerals Connelly Chapel, 202 North Broadway Street, Cassopolis.  The funeral service will be Friday, January 21, 2022 at 1:00 p.m. in the funeral home with Pastor Herman Washington officiating.  Mrs. Brunty will be laid to rest in Mission Hills Memorial Garden in Sumnerville, Michigan.
Arrangements have been entrusted to Wagner Family Funerals Connelly Chapel, Cassopolis.  Please share a memory or a message online: wagnercares.com
Posted On: Friday, January 14, 2022 3:19 PM