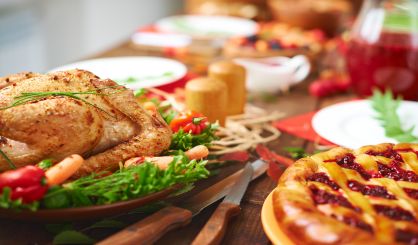 Registrations are being taken now for the sixth annual Holiday Food Sharing Program in Benton Harbor. It's the program that gives out holiday meals, including a turkey, to families in need of some cheer each year. The Southwest Michigan Community Action Agency is teaming up with the PGA and Whirlpool for the effort. Whirlpool's Cean Burgeson tells WSJM News the annual giveaway featuring the mayor of Benton Harbor will be December 20.
"To give back to the community where we work and live here in St. Joseph and Benton Harbor is always really important to us and it's something that we try to do," Burgeson said. "This has become a tradition, this event, but we also participate in other events around the community throughout the year. It's just a really important part of the culture we have here at Whirlpool Corporation. It feels great to see the faces, to get their reactions, always a really positive experience for everybody."
The program has served around 2,400 families since starting. Burgeson says the important thing to know is that to receive a food package, you have to sign up. There are eleven locations for doing so around Benton Harbor, St. Joseph, and Benton Township. We have the list at our website. The deadline is December 17 at noon.
Sign up locations are below:
Southwest Michigan Community Action Agency: 185 East Main St, S303, Benton Harbor, MI 49022
United Way: 2015 Lakeview Ave, Saint Joseph, MI 49085
The Department of Health and Human Services: 401 8th St, Benton Harbor, MI. 49023
Benton Harbor City Hall: 200 E. Wall St, Benton Harbor, MI 49022
City of St, Joseph: 700 Broad St, St. Joseph, MI 49085
Benton Charter Township: 1725 Territorial Rd Benton Harbor, MI 49022
Mosaic: 510 W. Main St, Benton Harbor, MI 49022
Michigan Works: 401 8th St, Benton Harbor, MI 49022
The Emergency Shelter Services: 645 Pipestone St, Benton Harbor, MI 49022
The Salvation Army: 233 Michigan St, Benton Harbor, MI 49022
Benton Harbor/Benton Township Senior Services, Inc: 225 Colfax Ave, Benton Harbor, MI 49022