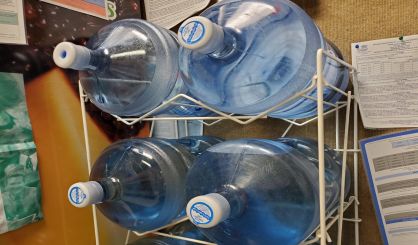 The Michigan Department of Health and Human Services has announced the state will provide bottled water to residents of Benton Harbor as work continues to replace old lead water lines around the city. It says "out of an abundance of caution," the availability of bottled water is being expanded in the city and residents are being encouraged to use bottled water for cooking, drinking, brushing teeth, rinsing foods, and mixing powdered infant formula.
The acceleration announced Wednesday is part of a longer-term effort to eliminate exceedances of the federal lead standard, educate the community on the effects of lead in drinking water, and remove lead service lines. Unfiltered tap water can be used for showering or bathing, for washing hands, dishes, clothes and for cleaning, but it's recommended only bottled be consumed.
Meanwhile, the EPA is studying the effectiveness of lead filters, and the state will provide bottled water in Benton Harbor for as long as needed.
So far, more than 4,500 cases of bottled water have been delivered to the city of Benton Harbor through a local-state partnership, and another 15,500 cases are being delivered to city distribution centers in the coming days. Residents can pick up water this Thursday from 4 to 6 p.m. at the Southwest Michigan Community Action Agency on Miller Street, and this Friday at God's Household of Faith on Pipestone from 2 to 6 p.m.
Additional dates for bottled water pickup will be added to make sure community needs are met. Information will be posted on Michigan.gov/MiLeadSafe.
Residents who are unable to pick up water and/or require water delivery should call 800-815-5485 to schedule drop-offs.