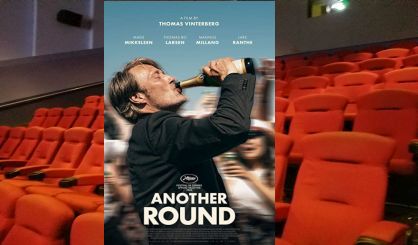 Flick Pick is a podcast about movies. In today's episode, Andrew Green reviews Another Round, a 2020 Danish film about a group of middle age men who decide to do an experiment that involves being under the influence of alcohol at all times.
Did Andrew enjoy Another Round, or did it drive him to drinking?
Scroll down and click the Play icon to found out by listening to this completely sober edition of Flick Pick!
Click here to listen to additional episodes of Flick Pick.
Podcast: Play in new window | Download (Duration: 3:37 — 3.3MB) | Embed
Subscribe: Apple Podcasts | Google Podcasts | Spotify | Amazon Music | iHeartRadio | Stitcher | Email | RSS | More