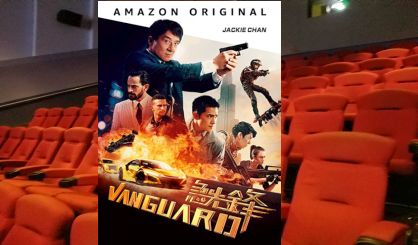 Flick Pick is a podcast about movies. In today's episode, Andrew Green reviews Vanguard, a 2020 film starring Jackie Chan.
Andrew realized recently that he has only ever seen one film with Jackie Chan. So he decided to start watching as many Jackie Chan films as possible, throwing dozens of them into his DVD Netflix queue. Apparently, this movie is also on Prime, which Andrew didn't know because he is an idiot. But, anyway. Here we go, it's Jackie Chan time!
Vanguard is about a security agency that protects the elite in Hong Kong. When one of its clients is kidnapped, Vanguard springs into action, setting off a world-wide adventure packed with action!
Did Andrew feel safe under the protection of Vanguard? Scroll down and find out with this episode of Flick Pick!
Click here to listen to additional episodes of Flick Pick.
Podcast: Play in new window | Download (Duration: 3:16 — 3.0MB) | Embed
Subscribe: Apple Podcasts | Google Podcasts | Spotify | Amazon Music | iHeartRadio | Stitcher | Email | RSS | More