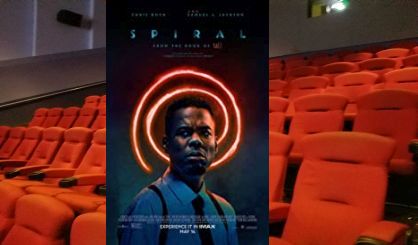 Flick Pick is a podcast about movies. In today's episode, Andrew Green reviews Spiral, which is a new movie only playing in theaters.
Andrew returned to a movie theater for the first time in more than a year to see this…Saw movie? It's a Saw movie?
Yes, Spiral is a new entry in "The Book of Saw," as it says of itself. Chris Rock plays a grizzled police detective who has to investigate what appears to be a copycat of Jigsaw, the killer from Saw. Samuel L. Jackson plays Rock's dad.
OK, I can understand why Andrew wanted to see this thing. But was it any good? Scroll down and click the Play icon to find out with this torture-ific edition of Flick Pick!
Click here to listen to additional episodes of Flick Pick.
Podcast: Play in new window | Download (Duration: 7:32 — 6.9MB) | Embed
Subscribe: Apple Podcasts | Google Podcasts | Spotify | Amazon Music | iHeartRadio | Stitcher | Email | RSS | More