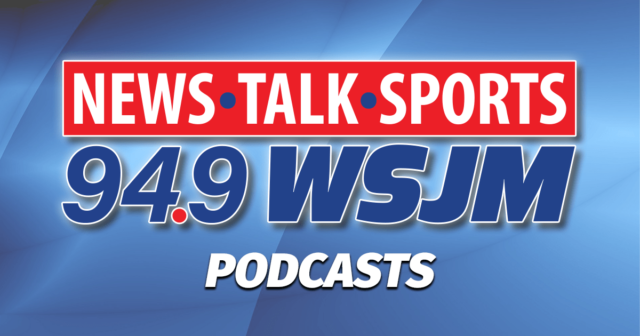 MLB – Major League Baseball
Last Night
Chicago Cubs 5, Washington Nationals 2
Tigers and White Sox were both off
Cubs 5, Nationals 2 – Ian Happ homers twice as Cubs beat Nationals 5-2
Ian Happ homered twice and drove in three runs, helping the Chicago Cubs beat the Washington Nationals 5-2. Happ put Chicago ahead to stay with a two-run shot in the third inning. He also led off the fifth with his sixth homer. It was Happ's first multihomer game since Sept. 5 against St. Louis and No. 8 for his career. Josh Bell and Kyle Schwarber hit back-to-back homers for Washington in the first, but Joe Ross lasted just 3 2/3 innings in his second straight loss.
Tonight
Chicago White Sox at New York Yankees, 7:05 p.m.
Detroit Tigers at Kansas City Royals, 8:10 p.m.                94.9 WSJM/103.7 Cosy-FM 7:50
Chicago Cubs at St. Louis Cardinals, 8:15 p.m.
MLB – Cubs place OF Heyward on IL with left hamstring strain
The Chicago Cubs have placed outfielder Jason Heyward on the 10-day injured list with a left hamstring strain. Heyward left Wednesday night's 4-3 loss to Washington in the fourth inning. He is batting .183 with four homers and 13 RBIs in 39 games. The Cubs also recalled outfielder Nick Martini from Triple-A Iowa before their 5-2 victory over the Nationals.
MLB – Hoyer disappointed with Cubs' COVID-19 vaccination rate
Chicago Cubs executive Jed Hoyer is disappointed with the team's COVID-19 vaccination rate, and he isn't sure if it will ever reach Major League Baseball's threshold for relaxing some of its coronavirus protocols. Despite the team's vaccination advocacy and education program, the Cubs remain shy of 85% for their Tier 1 players and staff. Hoyer says "there's a real competitive advantage" to the relaxation of MLB's COVID-19 rules.
NBA – National Basketball Association – NBA Play-In Tournament
Last Night
Washington Wizards 142, Indiana Pacers 115                  (Indiana eliminated)
Wizards 142, Pacers 115 – d Beal, Westbrook lead Wiz past Pacers 142-115 for East 8 seed
Russell Westbrook nearly had a triple-double and Bradley Beal scored 25 points in just 29 minutes to help the Washington Wizards reach the NBA playoffs as the Eastern Conference's No. 8 seed by overwhelming the Indiana Pacers 142-115 in the play-in round. Washington led by as many as 38 points and advanced to face Joel Embiid and the No. 1 seed Philadelphia 76ers in the first round. It all marks quite a turnaround for coach Scott Brooks' Washington team, which was 17-32 in early April. Indiana's run of five consecutive playoff appearances ended in coach Nate Bjorkgren's debut season.
Tonight
Memphis Grizzlies at Golden State Warriors, 9:00 p.m.
NHL – 2021 NHL Stanley Cup Playoffs – Round 1 – Best of 7
Last Night
Florida Panthers 6, Tampa Bay Lightning 5 – OT                          (TBL leads 2-1)
Pittsburgh Penguins 5, New York Islanders 4                             (PIT leads 2-1)
Montreal Canadiens 2, Toronto Maple Leafs 1                             (MTL leads 1-0)
Vegas Golden Knights 5, Minnesota Wild 2                                 (VGK leads 2-1)
Tonight
Washington Capitals at Boston Bruins, 6:30 p.m.                        (BOS leads 2-1)
Carolina Hurricanes at Nashville Predators, 7:00 p.m.               (CAR leads 2-0)
Winnipeg Jets at Edmonton Oilers, 9:00 p.m.                               (WPG leads 1-0)
Colorado Avalanche at St. Louis Blues, 9:30 p.m.                       (COL leads 2-0)
NHL – Avalanche's Kadri suspended for hit vs Blues pending hearing
Colorado's Nazem Kadri was suspended indefinitely Thursday pending a video hearing with NHL officials over his illegal check to the head of St. Louis defenseman Justin Faulk in Game 2 of the teams' playoff series.  Kadri clipped Faulk in the head with his right elbow midway through the third period Wednesday night. Faulk left the game, and Kadri was thrown out with a match penalty. Kadri has three previous playoff suspensions on his record in addition to a four-game ban late in the regular season in 2015 for an illegal check to the head.
WNBA – Women's National Basketball Association
Tonight
Atlanta Dream at Indiana Fever, 7:00 p.m.
Golf – PGA – Corey Conners alone in lead at PGA Championship
Corey Conners made it look stress-free amid the wind and havoc of Kiawah Island. He made only one bogey on his way to a 67 and a two-shot lead in the PGA Championship. The wind was stiff enough off the Atlantic that only seven players shot in the 60s. That's the fewest for the opening round of a PGA Championship since 2002. Brooks Koepka was among those two shots behind. Keegan Bradley, Viktor Hovland, Aaron Wide and Sam Horsfield also fired 69s.  The Ocean Course is playing shorter because of the wind but that didn't make it easy. There was plenty of stress for Dustin Johnson. He made two double bogeys and shot 76. Justin Thomas and Rory McIlroy each shot 75.
Golf – PGA – Lefty rallies after awful start to PGA Championship
Phil Mickelson rallied from a dreadful start to his PGA Championship on Thursday to finish at 2-under 70, three shots behind leader Corey Conners after the first round of the Ocean Course. Mickelson made four bogeys over his first six holes and looked headed for an early exit in the year's second major. But the 50-year-old five-time major champ found his stellar game and moved back into contention with five birdies over his last 12 holes. Mickelson's last PGA Tour win came in 2019 at Pebble Beach, although he's won twice on the PGA Tour Champions since turning 50.
Indy 500 – Rahal team penalized after Indy 500 photo shoot causes crash
IndyCar has punished Rahal Letterman Lanigan for trying to stage a photo in the opening minutes of Indianapolis 500 practice. The three Rahal cars fanned across the frontstretch for a picture but the other cars on track were unaware of what they were doing. Colton Herta didn't see two cars slow in front of him to miss the photo and Herta hit the wall and another car trying to avoid a serious wreck. The Rahal cars will miss the first 30 minutes of Friday's practice for what IndyCar called improper conduct.
Olympics – 'Like hell:' As Olympics loom, Japan health care in turmoil
Hospitals in Osaka, Japan's third-biggest city and only 2 1/2 hours by bullet train from Summer Olympics host Tokyo, are overflowing with coronavirus patients. About 35,000 people nationwide, twice the number of those in hospitals — must stay at home with the disease, often becoming seriously ill and sometimes dying before they can get medical care. Some see the crisis Osaka as a warning for what could happen to the rest of the country at a time when officials, and the world, are focused on the Olympics. Officials insist the Games in July will be safe and orderly even as a state of emergency spreads to other parts of Japan and a growing number of citizens call for a cancellation.
MWL – Minor League Baseball – Midwest League
Last Night
Great Lakes Loons 5, Lake County Captains 3
Dayton Dragons 5, South Bend Cubs 2
Lansing Lugnuts 12, Fort Wayne TinCaps 1
West Michigan Whitecaps 4, Wisconsin Timber Rattlers 1
Tonight
Lake County Captains at Great Lakes Loons, 6:05 p.m.
Dayton Dragons at South Bend Cubs, 7:05 p.m.
Lansing Lugnuts at Fort Wayne TinCaps, 7:05 p.m.
West Michigan Whitecaps at Wisconsin Timber Rattlers, 7:35 p.m.
MHSAA – High School Sports
Last Night
Baseball
Lakeshore 11, St. Joseph 0 – Game 1
Lakeshore 7, St. Joseph 6 – Game 2
Michigan Lutheran 10, Lawrence 0 – Game 1
Lawrence 8, Michigan Lutheran 3 – Game 2
Coloma 17, Gobles 2 – Game 1
Coloma 12, Gobles 2 – Game 2
South Haven 11, Fennville 1 – Game 1
South Haven 14, Fennville 3 – Game 2
Buchanan 13, Schoolcraft 2 – Game 1
Buchanan 8, Schoolcraft 2 – Game 2
Bloomingdale 16, Bangor 0 – Game 1
Bloomingdale 16, Bangor 1 – Game 2
Kal. Christian 18, Galesburg-Augusta 4 – Game 1
Galesburg-Augusta 1, Kal. Christian 0 – Game 2
Battle Creek Lakeview 5, Mattawan 1 – Game 1
Mattawan 9, Battle Creek Lakeview 7 – Game 2
Kalamazoo Central 4, Decatur 2 – Game 1
Kalamazoo Central 10, Decatur 1 – Game 2
Portage Central 15, Portage Northern 1 – Game 1
Portage Northern 5, Portage Central 3 – Game 2
Softball
Lakeshore 8, St. Joseph 4 – Game 1
Lakeshore 11, St. Joseph 8 – Game 2
Buchanan 5, Kalamazoo Christian 0 – Game 1
Buchanan 11, Kalamazoo Christian 3 – Game 2
Michigan Lutheran 15, Lawrence 0 – Game 1
Michigan Lutheran 14, Lawrence 4 – Game 2
River Valley 4, Holton 1 – Game 1
Holton 11, River Valley 6 – Game 2
Bangor 17, Bloomingdale 4 – Game 1
Bangor 7, Bloomingdale 6 – Game 2
Decatur 14, Gobles 4 – Game 1
Decatur 15, Gobles 4 – Game 2
Portage Northern 4, Portage Central 3 – Game 1
Portage Northern 10, Portage Central 6 – Game 2
Gull Lake 13, Delton-Kellogg 8 – Game 1
Gull Lake 13, Delton-Kellogg 11 – Game 2
Otsego 11, Middleville Thornapple Kellogg 7 – Game 1
Otsego 12, Middleville Thornapple Kellogg 6 – Game 2
Parchment 15, Kalamazoo Central 3 – Game 1
Parchment 2, Kalamazoo Central 1 – Game 2
Girls Soccer
Allegan 4, Kalamazoo Hackett 1
Comstock 6, Bangor 1
Today
Track and Field – Regionals
Division 1 – Regional 2 at Grand Haven, 11:00 a.m.
St. Joseph, Cedar Springs, Grand Haven, Grand Rapids Kenowa Hills, Grand Rapids Northview, Grand Rapids Union, Grandville, Holland, Holland West Ottawa, Hudsonville, Jenison, Muskegon, Muskegon Mona Shores, Muskegon Reeths-Puffer, Rockford, Zeeland East, Zeeland West
Division 1 – Regional 3 at Portage Central, 11:00 a.m.
Battle Creek Central, Battle Creek Lakeview, Byron Center, Caledonia, East Grand Rapids, East Kentwood, Grand Rapids Forest Hills Central, Grand Rapids Forest Hills Northern, Grand Rapids Ottawa Hills, Greenville, Kalamazoo Central, Kalamazoo Loy Norrix, Lowell, Mattawan, Portage Central, Portage Northern, Gull Lake, Wyoming
Division 2 – Regional 14 at Lakeshore, 12:30 p.m.
Allegan, Benton Harbor, Berrien Springs, Dowagiac, Edwardsburg, Hopkins, Niles, Otsego, Paw Paw, Plainwell, South Haven, Lakeshore, Sturgis, Three Rivers, Vicksburg
Division 3 – Regional 24 at Constantine, 12:30 p.m.
Bangor, Bloomingdale, Bridgman, Bronson, Buchanan, Centreville, Coloma, Comstock, Constantine, Galesburg-Augusta, Hartford, Lawton, Brandywine, Parchment, Schoolcraft, Watervliet
Division 4 – Regional 34 at New Buffalo, 3:00 p.m.
Countryside Academy, Cassopolis, Decatur, Eau Claire, Gobles, Kalamazoo Christian, Kalamazoo Hackett, Lawrence, Marcellus, New Buffalo, Lake Michigan Catholic, River Valley
Girls Tennis – Regionals
Division 3 – Regional 3 at Allegan
Allegan, Hamilton, Hastings, Otsego, Paw Paw, Plainwell, Lakeshore, Wayland
Baseball
Bangor at Brandywine, 4:15 p.m.
Otsego at Allegan, 4:00 p.m.
Sturgis at Dowagiac, 4:00 p.m.
Paw Paw at Edwardsburg, 4:00 p.m.
Three Rivers at Vicksburg, 4:00 p.m.
Softball
Mishawaka Penn at Lakeshore, 4:30 p.m.
Eau Claire at Lake Michigan Catholic, 4:15 p.m.
Bridgman at New Buffalo, 4:15 p.m.
Coloma at Lawton, 4:30 p.m.
Centreville at White Pigeon, 4:15 p.m.
Kalamazoo Loy Norrix at Gull Lake, 4:00 p.m.
Girls Soccer
Kalamazoo Central at Niles, 5:00 p.m.
Kalamazoo Loy Norrix at Parchment, 6:00 p.m.
Paw Paw at Dowagiac, 5:00 p.m.
Otsego at Three Rivers, 6:00 p.m.
Podcast: Play in new window | Download (Duration: 1:02 — 964.4KB) | Embed
Subscribe: Apple Podcasts | Spotify | Stitcher | Email | RSS | More