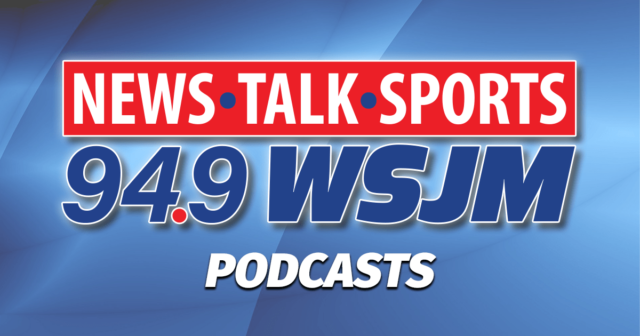 MLB – Major League Baseball
Last Night
Chicago Cubs 5, Detroit Tigers 1
Chicago White Sox 4, Kansas City Royals 3
Cubs 5, Tigers 1 – Hendricks takes shutout into 9th, Cubs beat Tigers 5-1
Kyle Hendricks took a shutout into the ninth inning and the Chicago Cubs defeated the Detroit Tigers 5-1. Hendricks allowed eight hits and struck out a season-high eight in eight-plus innings without allowing a walk. He left after Harold Castro and Miguel Cabrera started the ninth with singles. Dan Winkler appeared to get Jonathan Schoop to hit into a game-ending double play with runners on the corners, but the call at first was overturned after a review, allowing Detroit to score its only run. Ian Happ had three hits, including a homer, and was aggressive on the bases as the Cubs won for the second time in six games.
White Sox 4, Royals 3 – Abreu scores on Davis wild pitch, White Sox beat Royals 4-3
Wade Davis bounced a wild pitch that allowed José Abreu to dash home with the game-ending run, and the Chicago White Sox rallied in the ninth inning to beat the Kansas City Royals 4-3. Lansas City led 3-2 when Tim Anderson doubled off Davis leading off the ninth. Adam Eaton sacrificed and, with the infield in, Yoán Moncada lined a run-scoring single to center. Abreu was hit just above the left elbow by an 82 mph knuckle-curve. Abreu, injured Friday in a collision with Hunter Dozier, dashed home when Davis bounced a knuckle-curve off Gallagher,
Today
Washington Nationals at Chicago Cubs, 7:40 p.m.
Chicago White Sox at Minnesota Twins, 7:40 p.m.
Detroit Tigers at Seattle Mariners, 10:10 p.m.                  94.9 WSJM/103.7 Cosy-FM 9:50
NBA – National Basketball Association
Last Night
Miami Heat 120, Detroit Pistons 107
Chicago Bulls 118, Milwaukee Bucks 112
Indiana Pacers 125, Toronto Raptors 113
Heat 120, Pistons 107 – Heat rout Pistons 120-107 with several key players out
Nemanja Bjelica scored 17 of his 21 points in the first half, and the Miami Heat routed the Detroit Pistons 120-107 despite holding out several key players in a relatively meaningless game. Precious Achiuwa scored a career-high 23 points and Max Strus added 20 for the Heat. Miami was locked into the No. 6 seed in the Eastern Conference and faces Milwaukee in the playoffs. The loss assured that the Pistons would finish alone with the second-worst record in the league. Detroit will now have a draft pick no worse than sixth.
Bulls 118, Bucks 112 – Young, White help Bulls top starter-less Bucks 118-112
Thaddeus Young scored 20 points, Coby White added 19 and the Chicago Bulls beat Milwaukee 118-112 with Giannis Antetokounmpo and the rest of the Bucks' starters missing the regular-season finale. The Bucks ruled Khris Middleton out because of lingering soreness in his left ankle and then scratched Antetokounmpo and the rest of the starters once it became clear the No. 2 seed in the Eastern Conference was out of reach. The Brooklyn Nets clinched the position by beating the Cleveland Cavaliers. That locked Milwaukee into the third spot and a first-round matchup against Miami. Bucks rookie Jordan Nwora set career highs with 34 points and 14 rebounds.
Pacers 125, Raptors 113 – Brissett has career-high 31 as Pacers beat Raptors 125-113
Oshae Brissett delivered a career-best 31 points and Domantas Sabonis added 25 points, 16 rebounds and three steals, leading the Pacers to a 125-113 victory against the Pacers. Doug McDermott scored 20 points and hit four 3-pointers, while Caris LaVert added 13 points and six assists. Indiana comes away with the ninth seed in the East and will take on Charlotte in the play-in tournament.
End NBA Regular Season
WNBA – Women's National Basketball Association
Yesterday
New York Liberty 73, Indiana Fever 65
Liberty 73, Fever 65 – Liberty downs Fever for first 2-0 start since 2016 season
Betnijah Laney scored 20 points and Sabrina Ionescu scored 12 and New York beat Indiana 73-65. Michaela Onyenwere scored 11 points and Jazmine Jones 10 for New York, which hasn't won its first two games to start a season since 2016. After Kelsey Mitchell's 3-pointer brought the Fever to within 20-15 with 5:05 left in the first quarter, New York closed the quarter with an 11-3 run. Mitchell paced Indiana with 16 points and Jantel Lavender grabbed 16 rebounds.  Benton Harbor's Kysre Gondrezick was held without a point after scoring 5 in her professional debut.
The Hall calls: Bosh, Webber, Wright among the 2021 class
Ben Wallace, Jay Wright, Chris Bosh and Chris Webber are among the 16 names announced as this year's Naismith Memorial Basketball Hall of Fame enshrinement class.  The group that also includes Paul Pierce, coaches Rick Adelman and Cotton Fitzsimmons, and WNBA stars Yolanda Griffith and Lauren Jackson.  Bill Russell becomes the fifth Hall of Famer who will be inducted as both a player and a coach, joining John Wooden, Lenny Wilkens and former Russell teammates, Bill Sharman and Tommy Heinsohn (HYN'-suhn).
NHL – 2021 NHL Stanley Cup Playoffs – Round 1 – Best of 7
Last Night
New York Islanders 4, Pittsburgh Penguins 3 – OT                      (NYI leads 1-0)
Minnesota Wild 1, Vegas Golden Knights 0 – OT                         (MIN leads 1-0)
Tampa Bay Lightning 5, Florida Panthers 4 – OT                          (TBL leads 1-0)
Tonight
Boston Bruins at Washington Capitals, 7:30 p.m.                        (WSH leads 2-0)
Nashville Predators at Carolina Hurricanes, 8:00 p.m.               (Game 1)
St. Louis Blues at Colorado Avalanche, 10:00 p.m.                     (Game 1)
NASCAR – Bowman parks 48 in familiar spot in victory lane at Dover
Alex Bowman won the the NASCAR Cup Series race at Dover International Speedway as Hendrick Motorsports swept the top four positions.  Bowman led the final 98 laps and teammate Kyle Larson led a race-high 263 laps. Larson finished second, followed by Chase Elliott and William Byron. Hendrick Motorsports is the first team to finish 1-2-3-4 since Jack Roush in 2005. HMS led 382 of the 400 laps at Dover.
Golf – PGA – Lee wins Nelson
K.H. Lee is headed to the PGA Championship after getting his first PGA Tour victory at the AT&T Byron Nelson. The South Korean shot 6-under 66 and finished at 25 under for a three-shot win over third-round leader Sam Burns.  Daniel Berger, Patton Kizzire, Charl Schwartzel and Scott Stallings tied for third at minus-21.  Local Favorite Jordan Spieth got his first top 10 at the Nelson 11 years after contending on as a 16-year-old.
Golf – Champions – Winning with Pride
Monday qualifier Dicky Pride has won the Mitsubishi Electric Classic for his first PGA Tour Champions title. Pride closed with a 5-under 67 for an 11-under total and a three-stroke win over Stephen Ames, Kirk Triplett and second-round leader Paul Goydos (GOY'-dohs). Making his 11th senior start, the 51-year-old Pride had six birdies in an 11-hole stretch before dropping a stroke on the par-4 15th. He parred the final three.
Bay. He had been one of two quarterbacks on the roster along with 2020 first-round draft pick Jordan Love.
MCCAA – Junior College Sports
Today
Baseball
NJCAA Region XII Semi-Finals – Best of three
Lake Michigan College vs. Lansing Community College, 2:00 p.m. – Game 1
Lake Michigan College vs. Lansing Community College, 4:30 p.m. – Game 2
***If game 3 is necessary, it'll be Tuesday at 2:00
MWL – Minor League Baseball – Midwest League
Last Night
Great Lakes Loons 7, West Michigan Whitecaps 4
Lansing Lugnuts 3, Dayton Dragons 1
South Bend Cubs 12, Beloit Snappers 6
Tonight
No games today
MHSAA – High School Sports
Today
Girls Soccer
SMAC Tournament
Gold Division
#4 St. Joseph at #1 Gull Lake, 6:30 p.m.
#3 Portage Northern at #2 Portage Central, 6:30 p.m.
Silver Division
#8 Kalamazoo Loy Norrix at #5 Mattawan, 6:30 p.m.
#7 Lakeshore at #6 Battle Creek Lakeview, 6:30 p.m.
Bronze division
#10 Battle Creek Central at #9 Kalamazoo Central, 5:00 p.m.
Other games
Lake Michigan Catholic at Michigan Lutheran, 5:00 p.m.
Niles at Bridgman, 5:00 p.m.
South Haven at Covert, 5:00 p.m.
Buchanan at Brandywine, 5:00 p.m.
Kalamazoo Christian at Coloma, 6:00 p.m.
Watervliet at Saugatuck, 5:30 p.m.
Constantine at Lawton, 6:00 p.m.
Schoolcraft at Hartford, 5:00 p.m.
Parchment at Kalamazoo Hackett, 5:00 p.m.
Comstock at Bronson, 5:30 p.m.
Dowagiac at Otsego, 6:00 p.m.
Allegan at Paw Paw, 6;30 p.m.
Edwardsburg at Three Rivers, 6:00 p.m.
Plainwell at Sturgis, 6:00 p.m.
Schoolcraft at Hartford, 5:00 p.m.
Baseball
Michigan Lutheran at Benton Harbor, 4:00 p.m.
Watervliet at Gobles, 4:30 p.m.
Kalamazoo Christian at Parchment, 4:30 p.m.
Constantine at Delton-Kellogg, 4:30 p.m.
Bloomingdale at Cassopolis, 4:30 p.m.
Bangor at Centreville, 4:30 p.m.
White Pigeon at Decatur, 4:30 p.m.
Marcellus at Hartford, 4:30 p.m.
Quincey at Mendon, 4:30 p.m.
Vicksburg at Portage Northern, 4:00 p.m.
Sturgis at Three Rivers, 4:00 p.m.
Softball
Michigan Lutheran at Benton Harbor, 4:00 p.m.
New Buffalo at Howardsville Christian, 4:30 p.m.
Bloomingdale at Cassopolis, 4:30 p.m.
Watervliet at Gobles, 4:30 p.m.
Kalamazoo Christian at Parchment, 4:30 p.m.
Constantine at Delton-Kellogg, 4:30 p.m.
Martin at Galesburg-Augusta, 4:30 p.m.
Fennville at Lawton, 4:30 p.m.
Bangor at Centreville, 4:30 p.m.
White Pigeon at Decatur, 4:30 p.m.
Marcellus at Hartford, 4:30 p.m.
Quincey at Mendon, 4:30 p.m.
Loy Norrix at Gull Lake, 4:00 p.m.
Sturgis at Three Rivers, 4:00 p.m.
Podcast: Play in new window | Download (Duration: 2:34 — 2.3MB) | Embed
Subscribe: Apple Podcasts | Spotify | Stitcher | Email | RSS | More