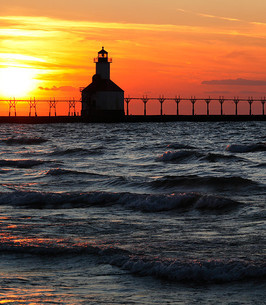 Martha L. (Quigley) Darling, 75, of Coloma died Saturday, October 17, 2020 at her home.
Services celebrating her life will be held at 11 AM on Thursday, Oct 22, at the Coloma Cemetery in Coloma with Pastor Jay Hartmann officiating. Burial will follow in Coloma Cemetery. The family will receive friends and relatives from 5 PM to 8 PM on Wednesday at the Davidson Chapel of Florin Funeral Service in Coloma. Please practice social distancing and wear your mask. Memorials may be made to the family or to the Coloma American Legion. Please share memories, messages or photos at www.florin.net.
Martha was born on June 11, 1945 in Coloma to John and Ethel Quigley. She married her husband, (George) Bud Darling, in 1963 and he preceded her in death in 2019. Together they celebrated 55 years of marriage. Martha was a long time member of the Faith Lutheran Church. She was a daily fixture at her favorite place the "Hot Spot Restaurant" in Coloma for many years. She was also the City Clerk for Coloma for close to 30 years. Martha always said that Coloma was "My Town" and she enjoyed getting to know everyone. She was also the Avon Lady for 30 years in the Coloma Area. On the weekends when her husband was alive you could find both of them at one of the local flea markets which they enjoyed going to. She was very family oriented both as a mom and grandmother. Her hobby was people and the City of Coloma. Martha was community minded and her focus was Coloma. She was honored in 2007 as the Honorary Person at the Glad-Peach Festival.
Her family includes her daughters, Katherine Darling of Coloma, Carol Darling of Coloma and Lori (Larry) Jeffers of Massillon, OH; her grandchildren, Michael Badamy, Rachel (Travis) Urquart, and Erin McVay, her dog, Chico, and her many nieces and nephews. She was also preceded in death by her son, Ricky, in 1972 and her 11 brothers and sister.
Posted On: Monday, October 26, 2020 10:41 AM