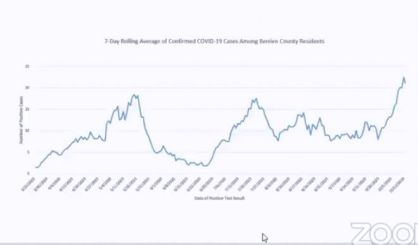 Berrien County is seeing an increase in the number of confirmed cases of COVID-19 each day, but it's not time to panic. That's according to Berrien County Health Officer Nicki Britten, who spoke to the Berrien County Board of Commissioners on Thursday. Britten said after a couple of months of 8 to 12 new cases of the illness each day, the county has gotten up to an average of 22 per day. The increase has been mirrored by hospitalizations.
"We have seen a bit of an increase in the number of people in the hospital with a COVID-19 positive test, but over the last week, we've seen a plateau and then a little bit of a dip and then another plateau," Britten said.
But Britten said the cases have mostly involved patients under 60 since September. That means a slower death rate and fewer in the ICU. As for schools…
"We've had about 36 positive cases associated with a school. Now that does not mean that they became infected at school. That is just a positive case among a student who attends a school or somebody who works in a school."
Given the number of students in Berrien County, Britten said that figure is pretty good. She noted PPE is in good supply, and the percentage of tests that come back positive is about 4%, worse than the 3% the county was at a month ago, but still not alarming. Britten said the best thing for everyone to do is to continue distancing and wearing masks.