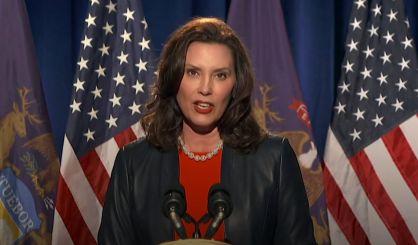 Governor Gretchen Whitmer is reacting to 13 people from two terrorist organizations charged with plotting to kidnap her and start a civil war.
"Let me say this loud and clear. Hatred, bigotry, and violence have no place in the great state of Michigan," said Whitmer. "If you break the law, conspire to commit heinous acts of violence against anyone, we will find you, we will hold you accountable, and we will bring you to justice."
In her remarks in the Capitol, she referenced President Reagan's 1981 speech to the NAACP's annual convention. Reagan said a few isolated groups in the backwater of American life still hold perverted notions of what America is about.
"You don't have to agree with me but I do ask one thing: never forget that we are all in this together. Let's show a little kindness and a lot more empathy. Give one another a little grace and let's take care of each other."
Whitmer added she knew the job would be hard, but never imagined this."