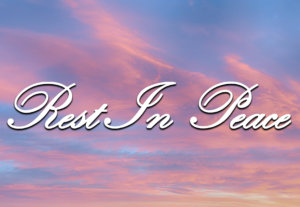 Geraldine Glass, 93, of Benton Township died at her home on Wednesday, September 9, 2020.
Services celebrating her life will be held at 1 PM on Friday, September 18, at the Benton Heights Church of God, 990 N Euclid Ave. Burial will follow in North Shore Memory Gardens. The visitation will be from Noon until 1 PM on Friday at the Church. Arrangements are by the Fairplain Chapel of Florin Funeral Service in Benton Township. Please share messages, memories or photos at www.florin.net.
Geraldine was born on June 12, 1927 in Malden, MO to Ben and Aline Ferguson. She married her husband, Landis Glass, in 1964 and he preceded her in death in 1994. Together they had 30 years of marriage. She was a spot welder and a punch press operator at Star Stamping for 39 years before her retirement in 1990. She attended when she could the Benton Heights Church of God.
Her family includes her children, Lisa (Jack) Saffell of Benton Harbor, Gary (Kathy) Glass of Benton Harbor, Martha (Allen) Pratt of Benton Harbor, and Roxanne Saffell of Benton Harbor; her sister, Norma (Richard) Ray of Stevensville, her 13 grandchildren and her 35 great grandchildren. She was also preceded in death by a daughter, Barbara, in 2019; her brother, Ben Ferguson in 1979 and a sister, Joyce Medler in 2006.
Posted On: Wednesday, September 16, 2020 3:26 PM