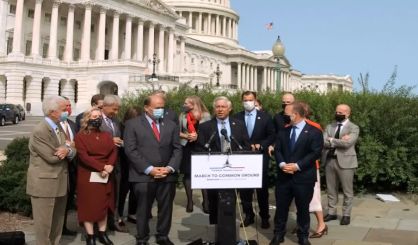 The U.S. House Problem Solvers Caucus has unveiled its blueprint for a new coronavirus stimulus and relief bill. The bipartisan group gathered in Washington Tuesday to announce the package, which includes COVID-19 testing, unemployment insurance, direct stimulus, small business and non-profit support, food security, schools and child care, housing, election support, and state and local aid. Congressman Fred Upton tells WSJM News there are a lot of priorities to address.
"We need more resources for our cities and our townships, for health providers, for first responders, for small businesses, and we need liability relief," Upton said.
The "March To Common Ground" framework is intended to help break the gridlock on the latest COVID-19 relief package and encourage Congressional negotiators to get back to the table. Upton says time is getting short to do something.
"There really ought to be the time to develop something rather than just quit, go home, see what happens in the election, are really wait until November or December for any action. We can't wait that long."
Upton says the package also suggests a series of automatic "boosters" depending on the severity of the pandemic and whether a successful vaccination program is adopted by March. Those boosters would automatically renew aid to Americans until the crisis has abated. The full Problem Solvers framework can be found here.