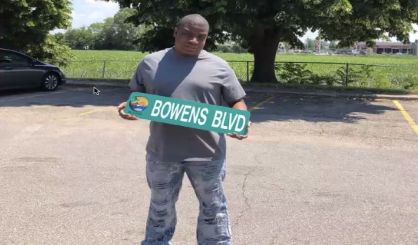 The organizers of a unity march on June 13 have been honored by St. Joseph City Commissioners. During a Monday virtual meeting, Gwen Swanigan, Tiera Wallace, and Trenton Bowens were all given honorary St. Joseph street signs by the body. Swanigan said the success of the march shows it is time for the two communities to come together as one.
"Everybody just kind of came and rallied together to make this happen," Swanigan said. "So it was just awesome. It was very much needed, it was awesome. And we're going to continue to stand together. We're going to continue to fight this fight."
Bowens said he hopes the march can become a yearly event.
"We are stronger together when we work together and when we fight together, and the city of St. Joe from Public Safety to St. John's Catholic Church to the Krasl Art Center to local restaurants, they really came together."
The march from St. Joseph to Benton Harbor attracted a large and peaceful crowd that walked around downtown St. Joe and across the bridge to Dwight P. Mitchell City Center Park in Benton Harbor. St. Joe Mayor Mike Garey and Mayor Pro Tem Laura Goos were among the marchers.