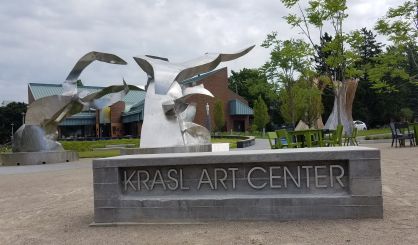 The 2020 Middle and High School Art Exhibition at the Krasl Art Center is going virtual. The exhibit is a way for Krasl to show off the work of young artists throughout Berrien County, and Krasl school program coordinator Emily McKenna tells WSJM News the usual, physical exhibit had to be canceled due to COVID. Still, Krasl wanted to do something.
"We asked for everyone to photograph their work as best as they could, submit it to us, and on Monday it will be going live online," McKenna said.
McKenna says the exhibition normally gets about 700 submissions, and this year it got 350.
"I was really blown away by the quality of the work. There's some really gorgeous paintings as well as some digital work from graphic design artists, and there are some really moving middle school videos as well."
The student art exhibit will be available to view from Monday, June 22 through Monday, August 31. You'll be able to find it right here. The Middle and High School Art Exhibition is a partnership between Krasl, the Box Factory for the Arts, and Berrien RESA.