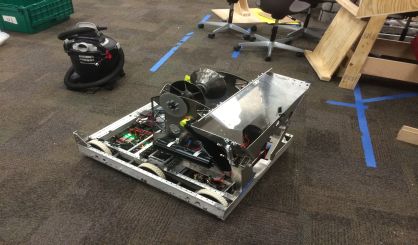 Grants totaling nearly $50,000 have been announced for FIRST Robotics programs around Indiana and Michigan by Indiana Michigan Power. Spokesperson Schnee Garrett tells WSJM News I&M supports robotics teams because they teach students the valuable science, technology, engineering, and math skills they'll need for technical careers.
"We support programs in science, technology, engineering, and math, or STEM, which hold promise for future innovation," Garrett said. "Programs that supplement classroom learning in robotics, agricultural and horticultural technology, and even experimental science have a big impact in our community."
The grants announced this week range in size from $250 to $6,000, depending on the size of a given school's robotics program. Among the recipients are elementary, middle, and high schools in districts that include Berrien Springs, Lakeshore, St. Joseph, and Buchanan. Garrett notes many kids in FIRST Robotics could one day go on to work for I&M.
In Southwest Michigan, FIRST Robotics grants were awarded to:
Berrien Springs High School
Berrien Springs Middle School
Roosevelt Elementary School, Stevensville, Team 32996
Stewart Elementary School, Stevensville, Team 32995
Lakeshore High School, Stevensville, Team 4237
Lakeshore Middle School, Stevensville, Teams 9376 and 13527
Hollywood Elementary School, Stevensville, Team 34288
St. Joseph High School, St. Joseph, Team 3620
Three Rivers High School, Three Rivers, Team 5204
Buchanan High School, Buchanan, Team 5056