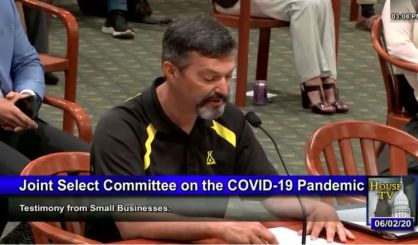 The Michigan Legislature's Joint Select Committee on the COVID-19 Pandemic took testimony from small businesses from throughout the state this week on how they have been affected by the coronavirus shutdown. Among others, lawmakers heard from Riverside's Mark Lemoine, the owner of the Coloma-St. Joseph KOA campground. He said the way in which the governor's shutdown order was handled created a great deal of confusion in his industry.
"The biggest restriction experienced by our industry isn't even in the orders itself, but in the FAQ documents, which have prohibited 'recreational camping' for 'non COVID-19-related purposes,'" Lemoine said. "This creates a burden that appears to require private RV park and campground businesses to discriminate among their guests and imposes an expectation that we judge the validity of a guest's purpose for leaving their home and coming to us."
Lemoine also said his industry has suffered massive financial losses. He served on the governor's hospitality work group, and said campgrounds like his were not well represented. Lemoine was invited to testify by state Senator Kim LaSata, who thanked him for standing up for his industry.