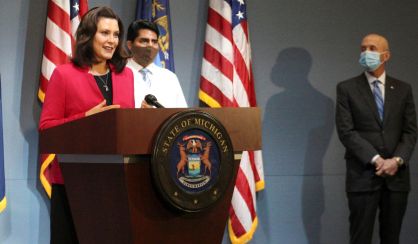 More parts of the economy are opening up. Governor Whitmer has signed a new executive order reopening veterinarian offices and pet grooming, auto showrooms by appointment only, more retail by appointment only, and expanding available medical and dental services.
"What we are announcing today is good news. The most important thing right now is to listen to the experts and follow the medical science," said Whitmer.
"This will not look like business as usual, but it will start to look a little more normal. Employees will have to wear personal protective equipment and maintain social distancing to the best of their abilities," said the governor.
Executive order 2020-96 reopens retail businesses and auto dealerships by appointment statewide on Tuesday, May 26, as part of the MI Safe Start plan. The governor's executive order also lifts the requirement that health care providers delay some nonessential medical, dental, and veterinary procedures statewide beginning on Friday, May 29. And the order authorizes small gatherings of 10 people or less starting immediately, as long as participants practice social distancing.
Whitmer added there will be another extension of the "Safer at Home" order coming in the next few days. It's currently set to expire late next week.