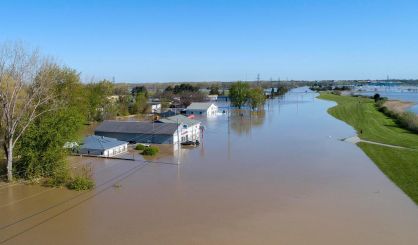 Devastating is how Governor Whitmer describes the flooding around Midland. She took an aerial tour on Wednesday of what was Wixom Lake, formed by dams on the Tittabawassee River, and that lake is now gone after two dams failed on Tuesday.
"Experts are describing this as a 500-year event," Whitmer said in Midland Wednesday afternoon. "It's going to have a major impact on this community and on our state for the time to come, and that's why we are going to be very aggressive about getting help from our federal partners.
"I know the President is scheduled to come to Michigan (Thursday)," continued the governor. "It is my intention that we will be able to give them a full briefing before they come into the state so they know precisely what we're confronting." President Trump will be touring a Ford plant in Ypsilanti that retooled to make ventilators to fight COVID-19.
The governor urged anyone living near the Tittabawassee River to evacuate. She says there have been no causalities.
Photo credit: Candace Monacelli, FOX-17 meteorologist. Used by permission