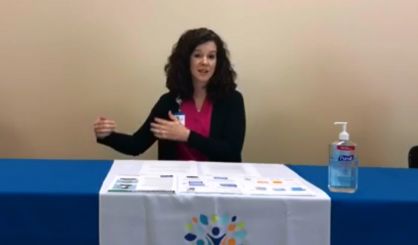 Berrien County officials are continuing to stress the need for people to adhere to the governor's "Stay Home, Stay Safe" order. Health Department Health Officer Nicki Britten says that's because COVID-19 can be very easily spread, and often times by people who are showing no symptoms and don't know they're sick. She says the 64 cases as of Tuesday are not all of them.
"That is just a small portion of the picture of COVID-19 activity in our community," said Britten. "Those 64 confirmed cases have resulted in our nurses having contacts with over 1,200 people that have been inadvertently touched somehow."
Spectrum Health Lakeland President Dr. Loren Hamel says there's also an "extra disease burden" in Benton Harbor.
"You notice the data around the country is suggesting that African-American populations are suffering a higher disease burden, and a higher mortality risk," said Hamel. He added the hospital intends to have 78 additional hospital beds available, with 40 being intensive care unit beds and said "we pray we don't need those extra beds."
In a Wednesday update, Berrien County Undersheriff Chuck Heit was asked about a possible curfew, as has been done in Flint. He says the governor's current executive orders don't address that, and adds for the most part, people are adhering to the orders.