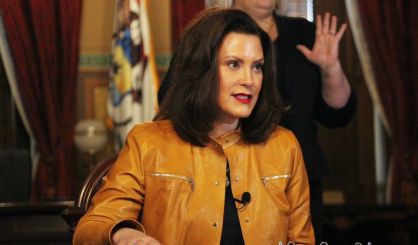 Governor Whitmer is echoing the advice coming from the White House and is calling on anyone who has to leave their home for any reason during the coronavirus pandemic to wear a mask.
"I encourage everyone to wear some sort of a face covering for those few trips where you have to leave the house," she said Monday morning. "During this time, it's crucial you only leave your home when absolutely necessary. Because there's a shortage of N-95 and surgical masks, we ask that you wear one like this," holding up a homemade mask with the Detroit Tigers logo sent to her. "So that those critical masks are left for the people on the frontline trying to take care of the sick."
Whitmer says new data shows Michigan residents are doing an excellent job at staying home, citing a graphic published over the weekend by the New York Times showing the movement of people by county nationwide with Michigan and New York among the best at limiting movement in recent weeks. She adds an extension of her "Stay Home, Stay Safe" order is likely to be issued by the end of this week.