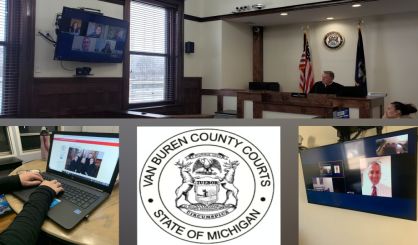 Van Buren County Courts are not open to only essential functions. The court has released the following statement:
After collaboration with Van Buren County officials, Chief Judge Kathleen M. Brickley, acting pursuant to MCR 8.110(C) and in response to the COVID-19 pandemic, has ordered Van Buren County Courts to be open only to conduct essential functions on Monday, Wednesday, and Friday between the hours of 9:00 a.m. and 3:00 p.m. through April 13, 2020. All other matters will be adjourned or addressed as outlined in the court's emergency operations plan. Normal operations will resume April 14, 2020 at 8:30 a.m. pending further updates.
While our buildings will be closed to the general public, filings can be made by mail, email, fax or placed in the drop box located near the entrance of court facilities. The picture below as an example of how we are performing essential functions during this health crisis. Whether it is working remotely from home or using technology to conduct hearings, Van Buren County Courts have adapted to continue to serve our community.
For specific contact information, please refer to our emergency operations plan or go to our website at www.vbco.org/courts.asp