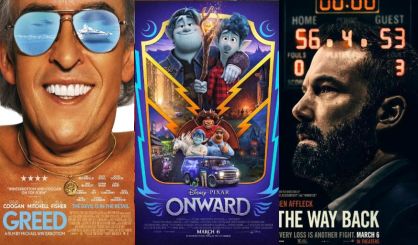 Flick Pick is a podcast about movies. In today's episode, Andrew Green and Jacob Holmes discuss the new movies playing this weekend in Benton Harbor. We've got three of them.
First up is The Way Back, a drama starring Ben Affleck. In it, he plays an alcoholic who becomes the coach of a struggling high school basketball team.
Up next is Greed. This one stars Steve Coogan as a rich guy who causes a media sensation.
Third Onward, an animated picture from Disney and Pixar.
Jacob and Andrew will also discuss the movies they have most recently seen. For Andrew, it's The Invisible Man.
Finally, the boys will lament the delay of the new James Bond movie, announced this week due to the coronavirus.
Scroll down and click the Play icon to listen to this exciting edition of Flick Pick! We assure you it is coronavirus free.
Click here to listen to additional episodes of Flick Pick.
Podcast: Play in new window | Download (Duration: 31:54 — 29.2MB) | Embed
Subscribe: Apple Podcasts | Spotify | Stitcher | Email | RSS | More