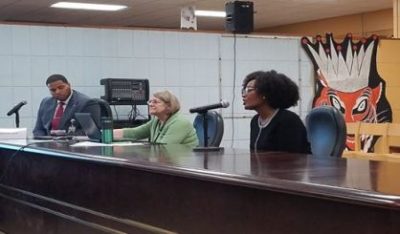 The Benton Harbor Area Schools Board of Education has appointed Dashuna Robinson to fill a vacancy on the body. The board interviewed two candidates for the remainder of former Trustee Patricia Rush's term on Tuesday night. Robinson is a 2003 graduate of Benton Harbor High School who went on to Western Michigan University. She works for the state determining assistance eligibility, and told trustees she has experience with people in distress.
"I have worked in after school programs that were focused on increasing literacy for students," Robinson said. "I've worked as a crisis worker in shelters for kids in crisis. I was a program area supervisor of the YWCA of Kalamazoo, where I directly supervised a 46 bed domestic violence shelter and was responsible for the security and the safety of the residents there."
Robinson said the district needs to make sure it teaches students strong communication skills so they can advocate for themselves as they get out into the world. She also said the kids should see the greatness in themselves. The board voted unanimously to appoint Robinson with Trustee Lue Buchana telling her "welcome home." Board President Joseph Taylor said he's proud to have Robinson join the team. She was sworn in and appointed board secretary after the vote.