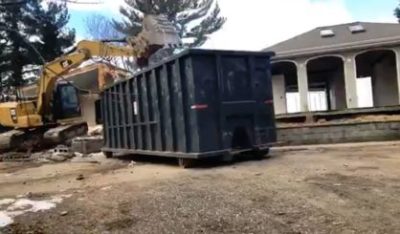 A Stevensville-area home is being torn down, with the erosion from Lake Michigan to blame. Bruce Smothers spoke to our partners at WSBT-22 as crews demolished his house today on Notre Dame Avenue, and was asked about not being too emotional about it.
"I got over it a couple of years ago; I knew this was happening," said Smothers. "I'm kind of glad it's finally being demolished because I can get on with my life now. Before, you were up in the air, you were in limbo."
Just six months ago, the home was appraised for $1.5 million. Smothers and his wife, Joan, bought it 15 years ago and hosted a wedding with 50 guests on the property just last fall. But the bluff began to be washed away quickly in November, and the decks connected to the house had collapsed by Christmas. Smothers says the land will be put on the market, but cautions the lake will continue to eat away at it until the levels go down.
Image from WSBT's Facebook Live video of the home's demolition.