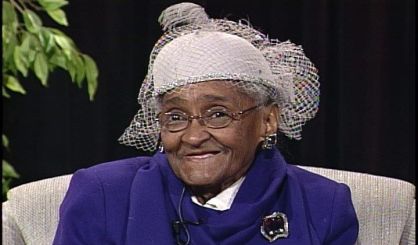 Lake Michigan College's annual Martin Luther King Jr. Diversity Award this year has been awarded posthumously to Mabel Lee Johnson. Berrien County Trial Court Chief Judge Mabel Johnson Mayfield accepted the award on behalf of her mother and quoted Dr. King in doing so.
"Darkness cannot drive out darkness. Only light can do that," Judge Mayfield said. "Hate cannot drive out hate. Only love can do that. Mabel Lee Johnson loved."
Johnson, a former resident of Benton Harbor who passed away on January 22, 2019, at age 98, was selected by the LMC Board of Trustees for her work as a diversity pioneer, educator and volunteer. LMC President Trevor Kubatzke announced the creation of a $500 Mabel Lee Johnson Scholarship, and in response, Mayfield announced her family's gift of an additional endowed scholarship fund.